Apple unveiled the 16th Mac operating system and named that macOS Big Sur 11.0. Apple changed its version schedule from 10.15 directly to 11.0. Since Apple from 2000 till now releasing the Macintosh operating system. But macOS Big Sur is the first Apple operating system that supports the Intel-based Processor. Overhaul, macOS Big Sur is the first operating system that can support Intel processors. At the recent WWDC Apple introduced it's ARM-Based Silicon processor for upcoming Mac and MacBook computers. macOS Big Sur 11.0 is available in Beta version, and overhaul its inspired by iOS 14 with a bunch of new features including a new UI interface, Control Center, Safari improvements, curved edges, new widgets, and notifications.
Keep in mind that running macOS Big Sur Beta version, iOS, iPadOS 14 Beta version on your primary devices as a bad idea until its final version. Because the Beta version may contain bugs problem. In fact, if you are a Windows user or Mac user you can install macOS Big Sur on your PC as a guest operating system using Virtual Machines.
We have successfully covered since macOS Big Sur 11.0 released in Beta 1 Version. The ways of installing macOS Big Sur on a Virtual machine is pretty much easy. Follow our instructions by clicking below down-links.
Through this post, I wanted to explore how to update macOS Big Sur on VirtualBox to the latest version. Updating to the latest version can be useful for your actual Mac, but here we perform the ways of updating on the VirtualBox. The same method will work on your Mac and MacBook also.
Update macOS Big Sur on VirtualBox to the Latest Version
Upgrading to the latest version sometimes it can be harmful and risky. Like we afraid that during the updates we should lose our important data. But upgrading to the latest version it can useful. There are several benefits of upgrading, but the main reason is security issues. With every update of the operating system, there will come security performance, new features, and many more.
We strongly recommend that when you are getting the notification of updates on your machine. Directly update it to protect your device from unknown threats. It's not important to keep your virtual machine operating system up to date. Again to have more experience for the current operating system update it.
Related:
Whether you are using VMware for installing macOS Big Sur or VirtualBox. But there won't be any differences between the upgrading process. As I performed the updating process was the same on VMware and VirtualBox.
Attentions! For upgrading macOS Big Sur to the latest version on your actual Mac. We strongly recommend you to take backup of your important files using the Time Machine or any other software. Because for most of the users it happened during updating the installation file damaged.
Steps to Update macOS Big Sur on VirtualBox
First of all, you need to have a pre-installed macOS Big Sur 11.0 on the VirtualBox platform. After that, for updating to the latest version power on the created macOS Big Sur Virtual Machine. When you logged into macOS Big Sur open "System Preferences" and click on "Software Update".
Still, macOS Big Sur is not available on App Store, the only way to update it you can use the system preferences.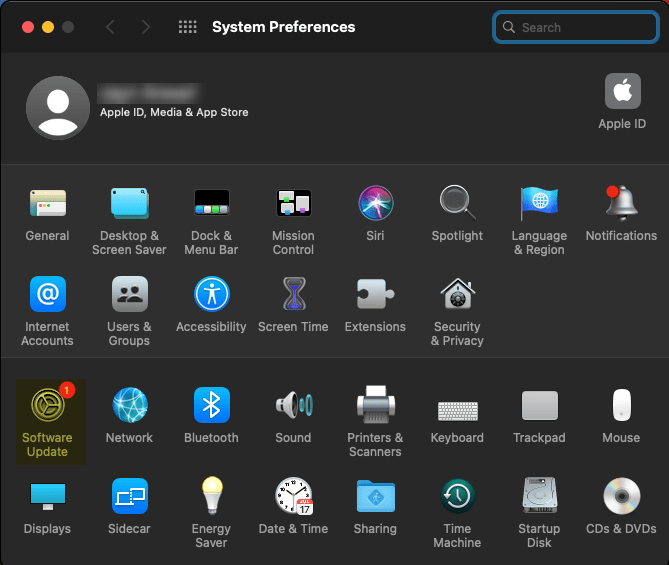 It will search for the latest update of macOS Big Sur, once the update available click on the "Update Now" option.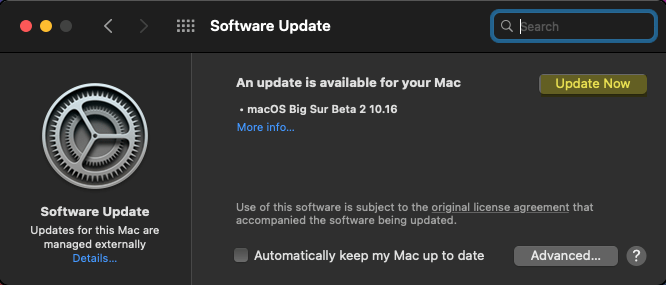 Read about the terms and conditions of macOS Big Sur update and click Agree.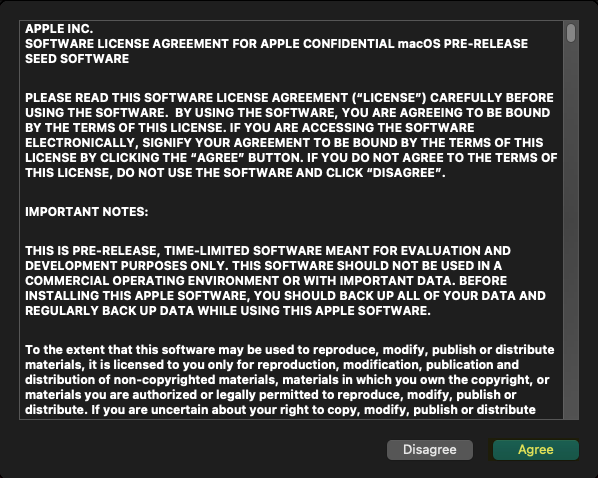 Now it will start downloading macOS Big Sur latest update, so it will cover some time. On the other hand, it will depend on your internet connection. For instance, if you need a quick update then upgrade your internet connection to a better internet.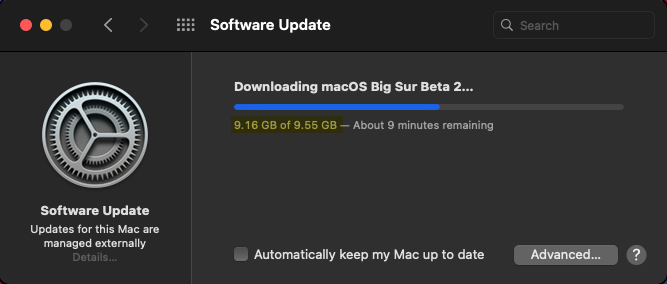 While the updated downloading completed, it will prepare the update file for the installation. Once the update prepared your virtual machine will restart.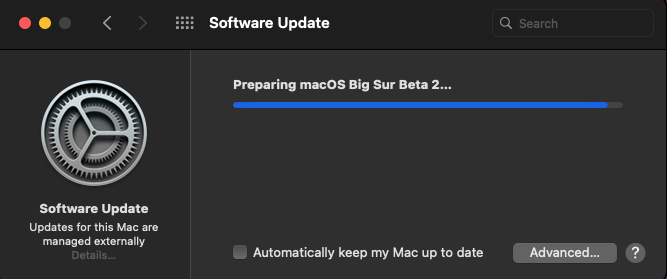 When the virtual machine restarted, wait until it should complete the installation. And during the installation, the Virtual machine will restart several times.

Once the macOS Big Sur latest updated installation completed, then enter your password and hit enter. Another update window will appear that "Your Mac is up to date".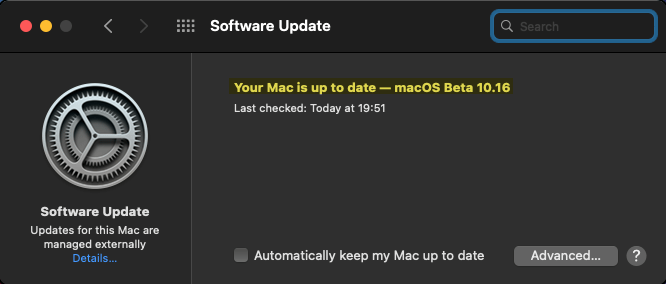 If you want to check manually the latest macOS Big Sur update version then navigate to the left corner of the desktop and click on Apple Logo and select "About this Mac".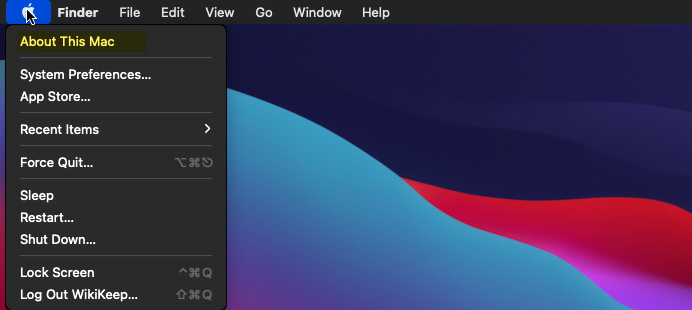 Here it is macOS Big Sur has been successfully updated to the latest version on VirtualBox on Windows PC. As in the begging I mentioned for you that you can perform this method on your actual PC too.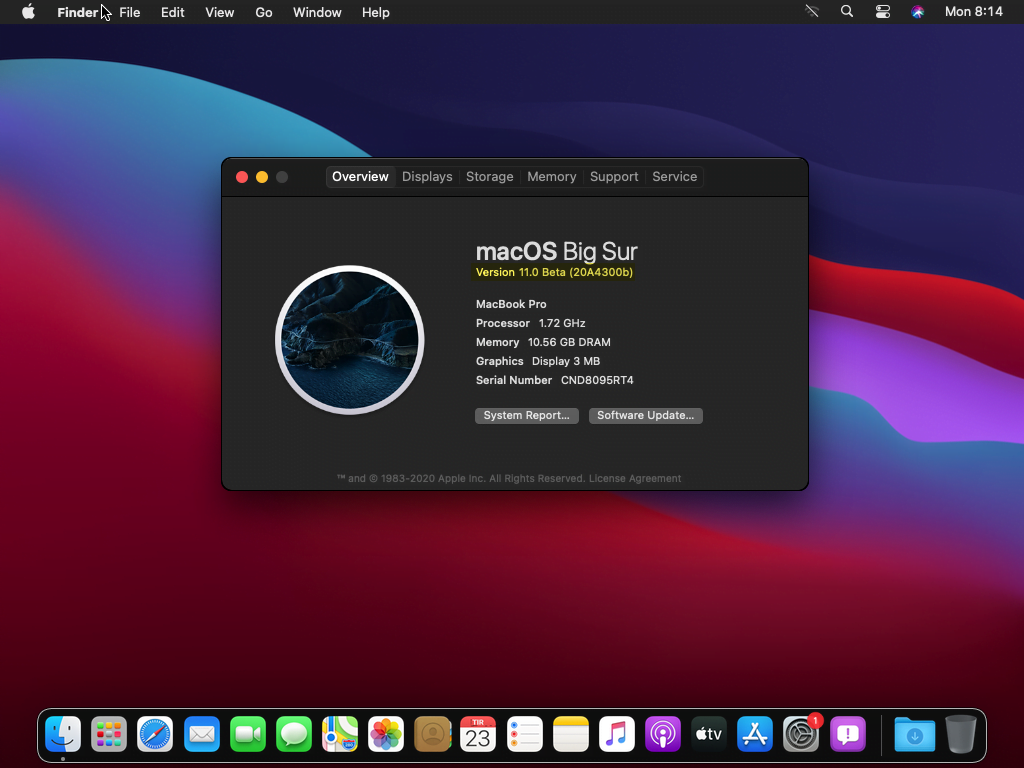 Always keep in mind that to keep your actual macOS, Windows, iOS, Android updated to the latest version. Updating can save your devices from several unknown threats or ethical hackers.
Install macOS Big Sur on Virtual Machine on Your Mac
VMware Fusion and VirtualBox software is available for Macintosh users. The users can install Windows as a second operating system on their Mac computers. In this case, VMware Fusion and VirtualBox macOS version is available for those who use Mac. The process of installing between Windows and Mac is a bit complicated. But don't worry we have done each and everything how to do it.
If you faced any kind of problem regarding to macOS Big Sur installation process on VMware and VirtualBox, or related to the macOS Big Sur update process. Then use the below-down comment section for sharing your problem.