macOS Big Sur 11.1 is the milestone release which means it brought lots of handy and new features on it. The features include the upgraded new features to a safe environment, security enhancements, and other internal security and bug fixes are being fixed by Apple in the latest update of macOS Big Sur which is 11.1 "x.x".
Overall, macOS Big Sur 11 Beta version was released at the beginning of June 2020, which was in Beta mode. Most developers tested and installed the macOS Big Sur Beta on their machines, as we founded the idea to create its ISO file and install it on the virtual machines. Our experiment is being successful and completely done on installing macOS Big Sur on VMware on Windows PC, or installing it on VirtualBox on Windows PC. After that, we have successfully updated macOS Big Sur on our Mac device, and updated macOS Big Sur on VMware on Windows PC in an easy way.
The latest update of macOS Big Sur update file is around 4GB, while updating it be aware to take backup of your important documents.
If you are currently running macOS Big Sur Beta or Public Beta version on your Mac machine, then you will be encountered with a huge download of the latest update of macOS Big Sur 11.1. The exact macOS Big Sur 11.1 update contains around 3.2GB that base on your Mac machines.
We have tested macOS Big Sur about few days and there are lots of changes in the macOS Big Sur 11.1 then the previous version of macOS Big Sur which was macOS Big Sur 11.0.1
Connectivity
Battery Life stable
Wi-Fi connectivity is fast than before and more reliable
Bluetooth connection is working normal
Apps
Third-party applications including Twitter, Asana, Gmail, Chrome, and Spotify are working fine in this update.
First party Applications like Safari and Podcasts are now stable.
Speed
macOS Big Sur 11.1 is faster than the update of macOS Big Sur 11.0.1, and it is more stable than the previous update because most of the applications are renovate in this season of update.
Bundles of other internal bugs are being fixed in this update season of macOS Big Sur, if you're using the older version of macOS Big Sur, or you don't feel fine about its security and privacy then hurry up update your computer now to macOS Big Sur 11.1.
macOS Big Sur 11.1 Update Latest Features
Airpods Max
Supported by AirPods Max, new over-ear headphones
High fidelity for rich sounds
Adaptive EQ adapts real sound in real-time to the person that fits cousins into their ear.
Active noise cancellation that block environmental sounds that you can hear around you.
Transparency mode to hear around you.
Spatial-audio with dynamic head tracking.
All the new Apple Tv tab makes it easy to discover and watch all movie and Apple shows.
Enhance the search category by browse.
Top-most recent shows will be shown in the Apple Tv app, across movies, Tv shows, cast, channels, and sports, favorite series.
Apple News widgets are now available in the notification center.
New Privacy category added in the App Store section, that the developer directly report the summary.
Recommends new Arcade to Play.
New portion for iPhone and iPad apps that lets you switch between portrait and landscape orientation or expand the window to enter the full screen.
Appl ProRaw can be edited in the Photos Apps.
Ecosisa search engine in the Safari browser.
Bugs Fixes:
Addresses an issue where QuickTime Player might quit when opening a movie with a timecode track after upgrading from macOS Catalina
Addresses an issue where Bluetooth connection status was not displayed in Control Center
Improves the reliability of unlocking your Mac automatically with your Apple Watch
Addresses an issue where the trackpad scrolling speed may be faster than expected on MacBook Pro models
Addresses an issue where LG's UltraFine 5K Display may incorrectly display at 4K resolution on Macs with M1
Update macOS Big Sur to 11.1 on VirtualBox on Windows
Before updating macOS Big Sur to 11.1 on VirtualBox you need to have a proper installation of macOS Big Sur on VMware on Windows PC. When the installation completed then head to the point of updating, the update process is easy following this method you can update your actual machines also. But for completing the experience firstly you need to update it on Virtual machines.
Step 1. Open-up the VirtualBox, then select the macOS Big Sur virtual machine and click on the Start button.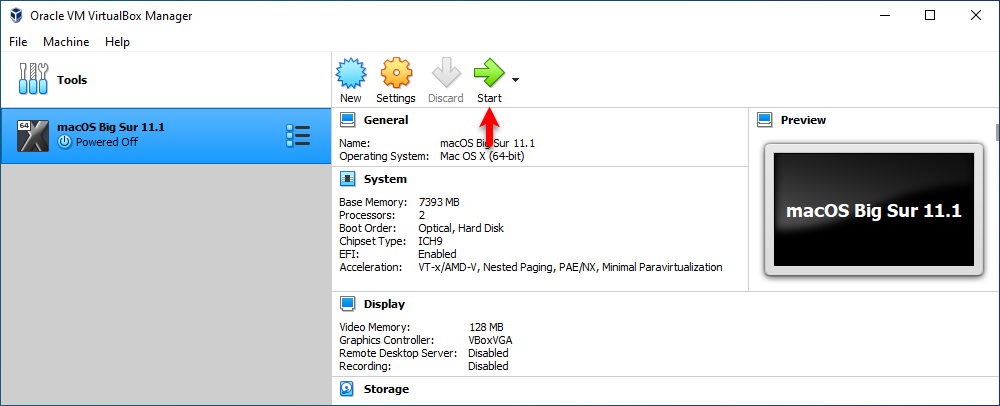 Step 2. When you signed into macOS Big Sur on VirtualBox, navigate to the left-handed menu bar and click on Apple Logo, then click on "About this Mac".
Step 3. In this window click on Software update.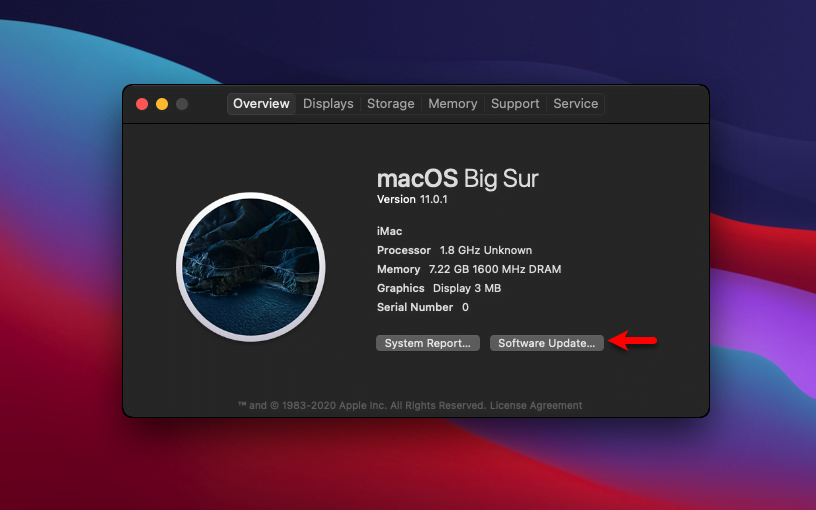 Step 4. Now, wait here until it should check for the latest update of macOS Big Sur.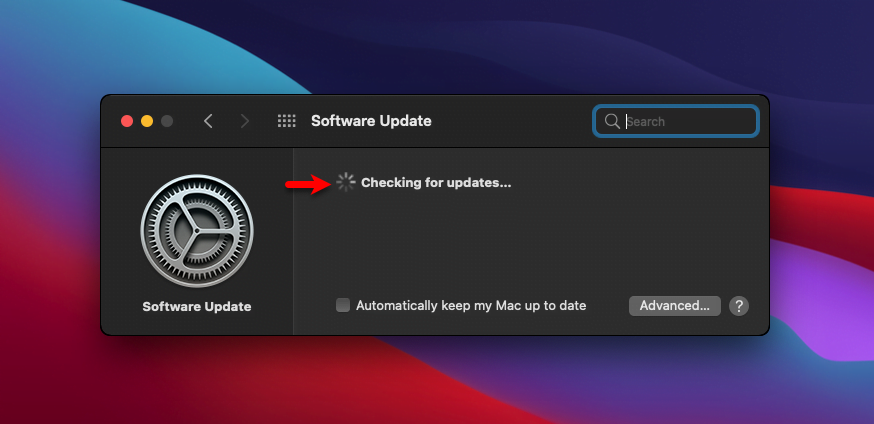 Step 5. And now macOS Big Sur 11.1 update is available, for downloading this update click on "Update Now".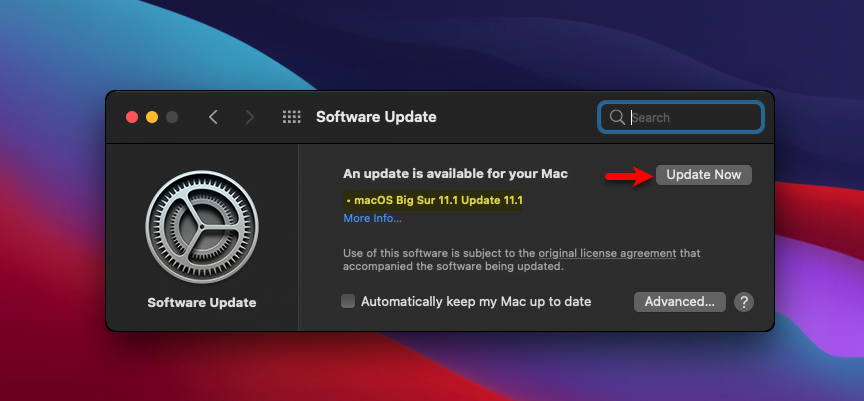 Step 6. Agree with terms and conditions of macOS Big Sur.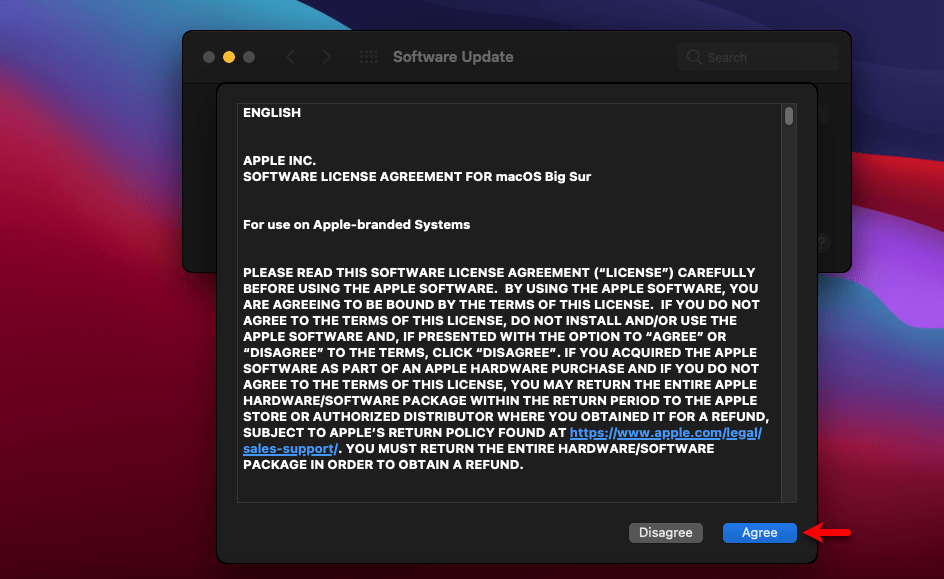 Step 7. Now it starts downloading macOS Big Sur available update, it will take some time but it depends on your internet connection.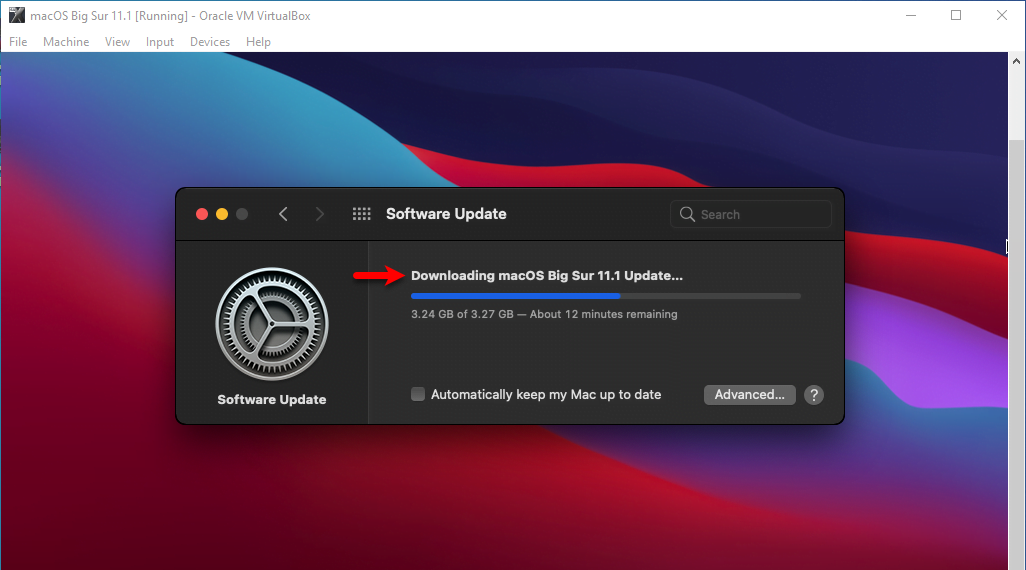 Step 8. When the update downloaded it will prepare to install it.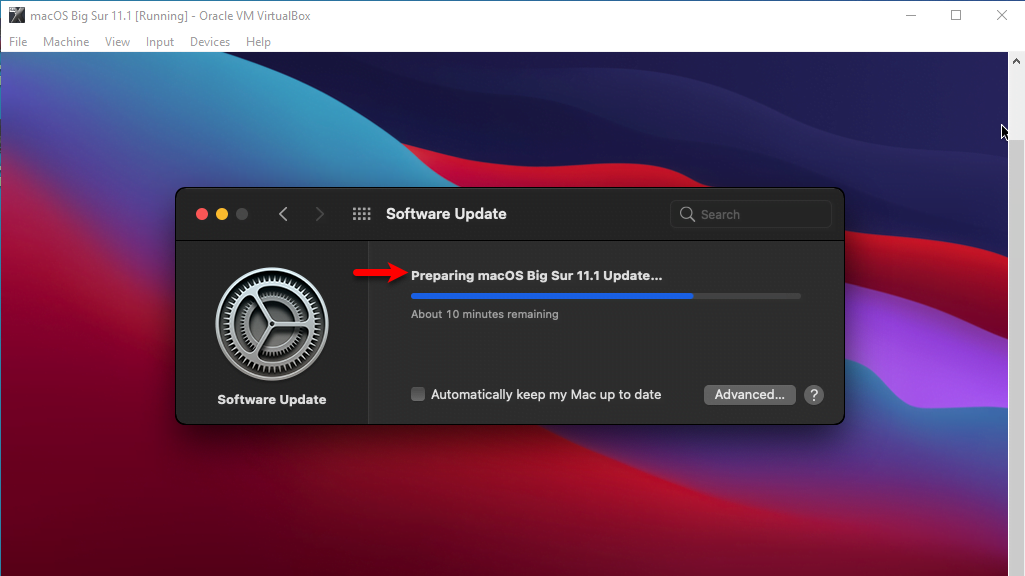 Step 9. Once the update completed you will be required to restart the virtual machine, after that, it will start installing the latest update.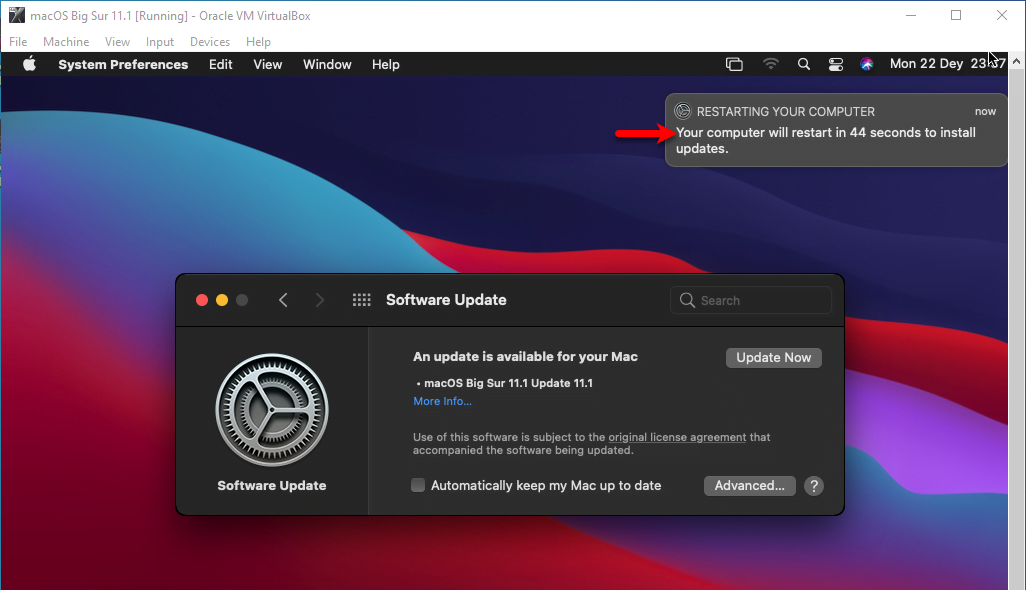 Step 10. Once the update successfully restarted, you will be back to the macOS Big Sur window, at the beginning window enter your username password. After that, a window will pop-up on the screen that your Mac is up to date.
Step 11. Manually if you want to check that whether your Mac is up to date or not. That's simple head over to the left-hand of the window then click on Apple Logo and click on "About this Mac", once you are there click on "Software Update" then you will see the update history there.
Related: