In this article, I will show you how to create a macOS Monterey Bootable USB drive on Mac. About a few days ago on 7th June 2021, Apple kicked out the 18th major release of Apple's operating system for Macintosh. It's the major successor release after macOS Big Sur 11. However, the new macOS Monterey is having a bunch of new features, which are available right now in the Beta version.
If you want to download macOS Monterey or update your system, then navigate to Settings>System Update> And check for updates. Once the check completed you will see the macOS Monterey 12 will be available there, simply click on that and download the update and install it.
However, for creating macOS Monterey Bootable USB Drive all you need is to have a Mac computer with pre-installed macOS Mojave, macOS Catalina, or macOS Big Sur any them. The next thing you need is to have 1 32GB USB pen drive because as we have created the ISO file the actual file size is 16GB which can take more storage. Therefore, you need to have at least 32GB of USB Pendrive. The next thing is you need to have the macOS Monterey dmg or installer file, which you can download from the developer website.
How to Create macOS Monterey Bootable USB Drive on Mac?
How you can download the installer file?
The first step is to open up your Safari browser, then go to Betaprofiles.
On the Betaprofiles website scroll down and click on macOS 12 install profile.
After clicking the file will be downloaded to your system.
Once the file downloaded open up the file and run the (InstallAssistantPacakge.file).
On the first step click on the continue option.
Agree with the terms and conditions.
On the installation, window enters your password and click on Install Software
Wait until the package should be downloaded.
While the software update appeared click on Upgrade Now option.
After downloading the installer file, it will automatically pops-up so quit the installation and complete creating a Bootable USB flash drive.
Steps to Create macOS Monterey Bootable USB Drive
For creating macOS Monterey you need several things to complete, like the macOS Monterey installer file, USB flash drive, and the commands.
Download macOS Monterey Installer file with the above description guide.
Attach your USB flash drive to your computer.
Erase your USB drive using the Disk Utility.
Run the Terminal window and apply the commands.
Step 1. Attach your USB flash drive and run the Disk Utility then format your drive according to the below settings.
On the top bar click on Erase option
Name (Optional)
Format APFS
Scheme (GUID Partition Map)
Click on the Erase option to start erasing the USB drive
Once the flash drive erased click on Done and close Disk Utility.
Step 2. Now head over to search spotlight and search for (Terminal), when appeared press enters to launch it. When the terminal launched copy the below down commands and paste them into the terminal window then press enter. After that, enter your password and press enter to proceed with it.
Sudo /Applications/Install\ macOS\ 12\ Beta.app/Contents/Resources/createinstallmedia --volume /Volumes/USB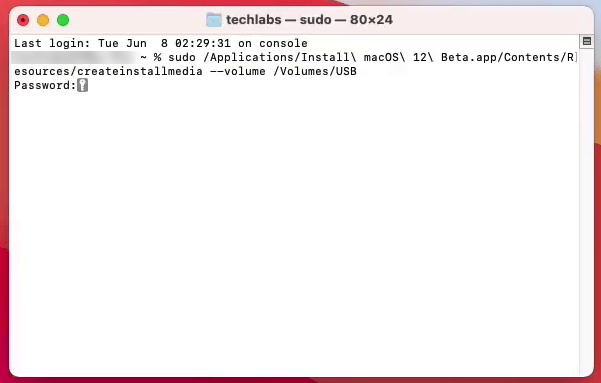 Step 3. Creating a macOS Monterey USB flash drive will take some time to be patient until it should be completed. Once it's completed restart your computer and press the boot keys to enter the boot menu and run the installation of macOS Monterey.
If you are interested click on the below links and get more information about macOS Monterey and download its files.
Final Point
However, it was about creating a Bootable USB flash drive for macOS Monterey on Mac, furthermore, follow our website soon I will write an article about creating Bootable USB Drive for macOS Monterey on Windows PC. And for further inquires contact us via the comment box section thanks.