Every year Apple Inc is rolling out a new operating system for there Mac users. The same in June 2020 Apple announced its sixteenth succeed major release of its operating system after macOS Mojave 10.14. Alongside they have selected an incredible name that called macOS Catalina 10.15. Wit its every operating system Apple's bringing many changes to the OS interface look. Such as for the first time after many experimentation Apple rolled out the dark mode look on macOS Mojave 10.14. The same they brought to look, and this time experience with auto mode in macOS Catalina 10.15.
In 2019 Apple Inc released iOS 13 alongside macOS Catalina 10.15, and with the end of 2019 nearly to 2020 also released iPhones 11, iPhone 11 Pro, and iPhone 11 Pro Max. However, macOS Catalina 10.15 has consisted of many unbelievable features such as cross-platform compatibility, iPad as a second screen display, new music, podcast, and TV apps, Find my app, Screen time, Photo updates, Expand Apple watching unlocking.
Now macOS Catalina 10.15.5 is the latest update is available for Mac users to install on their PCs. Therefore, for a clean installation, you need some equipment to full fill it first. For example, you have to check out your PC that it should be compatible with macOS Catalina 10.15. Or if you don't have the idea check out the below down list PCs which are compatible with macOS Catalina 10.15. Usually, macOS Catalina 10.15 officially runs on all standard configuration Macs that support macOS Mojave 10.14.
iMac Late 2012 or newer
iMac Pro
Mac Pro Late 2013 or newer
Mac Mini Late 2012 or newer
MacBook Early 2015 or newer
MacBook Air Early 2015 or newer
MacBook Pro Mid 2012 or newer Retina display no needed
Also, the possibility of installing macOS Catalina 10.15 on older Macintosh is supported. The Macintosh PCs which is supported by Apple.
Create macOS Catalina 10.15 Bootable USB Installer Drive
To create macOS Catalina 10.15 Bootable USB Installer Drive firstly you need at least 16GB of USB pen drive, and the second one is download macOS Catalina image or DMG file. To get macOS Catalina 10.15 DMG file check the below down instructions.
Firstly for getting macOS Catalina 10.15 DMG file navigate to Apple official program website. Be sure that you have an Apple Developer account. When you signed in to Apple developer official website, over ahead to download option.
Then below down the download option, hit on download macOS Catalina 10.15.
When macOS Catalina 10.15 downloading succeed, go ahead and create a Bootable USB drive.
However, there are many tools which are secured by Apple for there users to create macOS Sierra, macOS High Sierra, macOS Mojave, or macOS Catalina. And the best tool which satisfied the Mac is users is TransMac. Or the next best option is using some sort of codes on macOS system. But TransMac is recommended for those who are using Windows operating system also. Therefore, if your Mac is supporting macOS Mojave 10.14 then why not upgrade it to macOS Catalina 10.15 latest version. Whether directly you upgrade your Mac computer from macOS Mojave 10.14 to macOS Catalina or installing macOS Catalina 10.15 for a USB drive. For both reasons, I recommend to take the full-back of your important and necessary documents.
What is TrasnMac? TransMac is a file management tool that can read, write, and format Mac disks in your PC. A Windows software TransMac allows you to open Mac-formatted devices and drives on your Windows computer. TransMac consists of various options available for everyone to use. Therefore this tool is specialized tools that work between two different OS. TransMac is working with Windows and Mac, also Windows and Mac are the two common operating system that supports third-party applications.
Install TransMac
OK to begin the installation of TransMac, the think you have to know is with this process of creating Bootable USB drive we use the Windows 10 operating system.
Over ahead to TransMac official website, hit the download button. Remember that TransMac is not free software. But it has the option of using the 15 days trial, but if you want to use its full version for that you have to pay money.
When TransMac successfully downloaded double-click to open the installation process. On the first welcome screen hit next.

Accept with license agreement of TransMac then hit next.
Specify the location where you want to install TransMac then hit next.
Here select a start menu folder and hit next.
Now select the additional task and hit next.
And finally, TransMac is ready for installation therefore, hit the install button.
Wait for the installation process to be completed.
When the installation completed click Finish to close the window.
When the TransMac application successfully installed on your Windows 10 PC. So, let's get started with creating a Bootable USB Install Drive for macOS Catalina 10.15. Attach the USB drive then open TransMac right-click on it then select "Run As Administrator".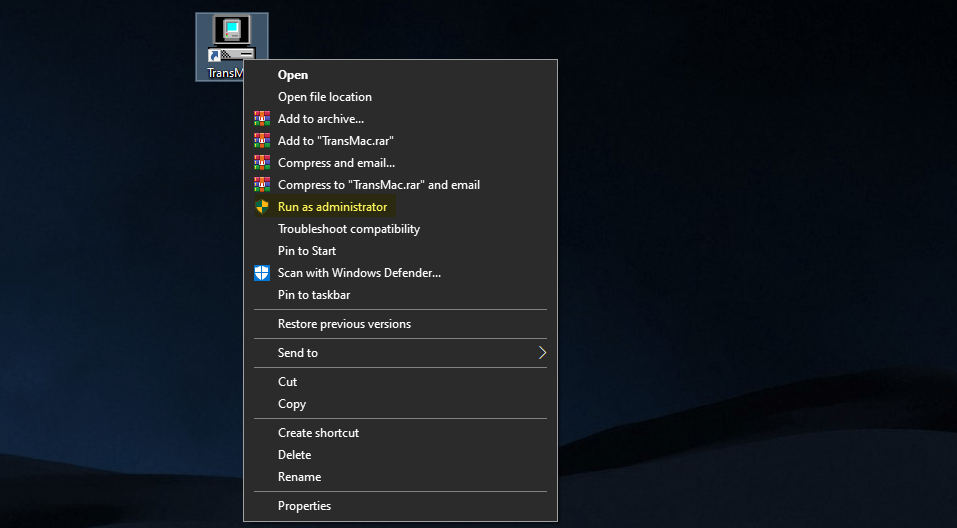 When TransMac opened on the left-handed the list of available drives will appear. So, select the USB drive which you mentioned for creating a Bootable USB installer. Right-click on the selected USB drive and select the "Restore with disk image" option.
Here you will face a Warning! and the warning is "This disk may contain mounted PC volumes, Restoring will overwrite them. Are you sure you want to continue?" simply click YES to continue the process.
When this screen comes click on three dots then select the macOS Catalina 10.15 DMG file and click Open. Be sure that macOS Catalina 10.15 DMG inserted successfully and click OK.
Again here you will face the last warning! simply click YES to continue the process.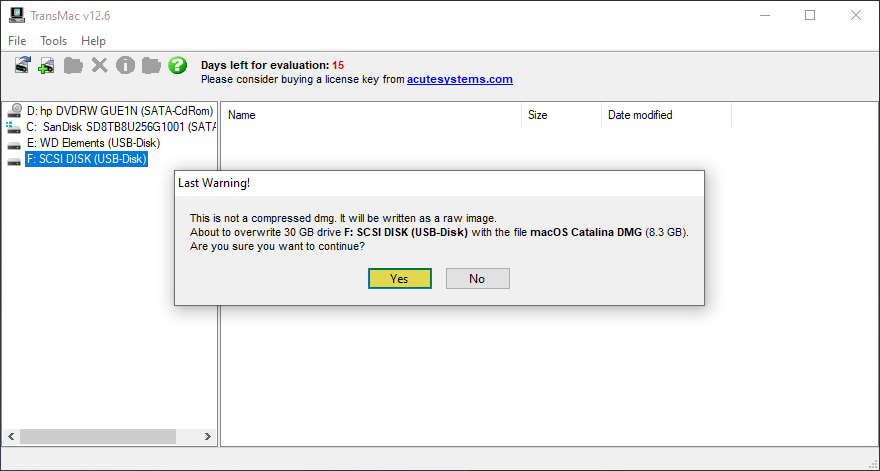 Now everything is getting ready and the macOS Catalina 10.15 starts copying the image file to the USB drive. This process will take some time, don't do anything during the copying process. When the file copied to the USB drive you will see the message.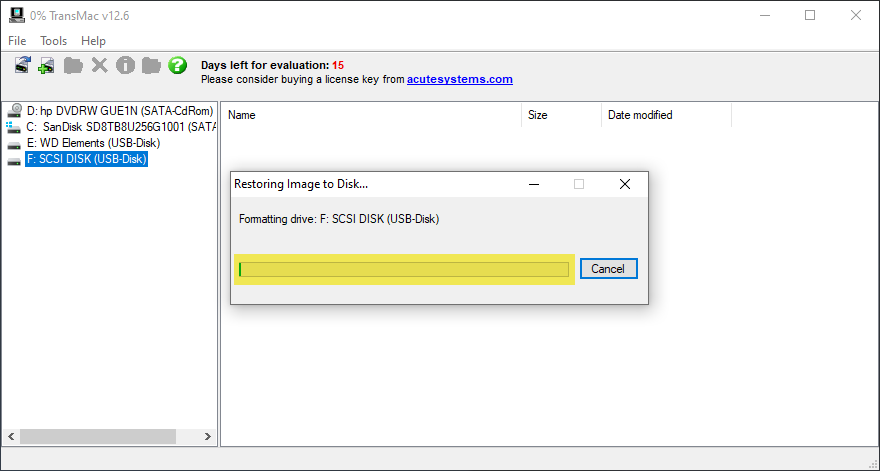 However, alongside creating macOS Catalina 10.15 Bootable USB drive. Most of the people don't have Mac computer, but again there is a way to test macOS Catalina on Windows 10 PC. And we covered all the procedures of installation in two different methods, so check out the below links.