Are you ready to test out the macOS Big Sur 11 on your Mac with its new features including big UI refresh? follow me on how to update your Mac to macOS 11 Big Sur.
Apple unveiled the next major operating system for Macs and MacBooks at the "WWDC" Worldwide Developer Conference on 22nd June, 2020 in Beta version. The new biggest operating system with new unique name introduced with new features and inspired by iOS. This includes a new Control Center, Improvement to Safari Browser, and modern widgets and notifications.
Now by signing in to Apple Developer Program website you can download the beta Softwares of macOS Big Sur, iOS 14, iPad OS, Watch OS 7, and tvOS 14. I think running the macOS Big Sur beta version on your actual Mac is a big risk. Because the Beta version may contain some bugs issues and security issues that can cause problems for you.
What is macOS Big Sur?
macOS Big Sur is the continuation of Apple's operating system for desktop and laptop Macintosh users. When they have selected the macOS name for the OS, the first major release change in 15 years. Suddenly Apple changed the OS version from 10.x to 11.x in 2020.
Selecting the macOS Big Sur from a natural wonder in Central California United States, and macOS Big Sur brings new features to Apples newest operating system. Apple's tried their level best to expand any bring many changes then its previous software to the desktop experience, and best of iOS 14, iPad OS, in order to create best environment.
Also, check the list of Macs and MacBooks that are compatible with macOS 11 Big Sur.
MacBook 2015 or newer
MacBook Air 2013 or newer
MacBook Pro Late or newer
iMac 2014 or newer
iMac Pro 2017 or newer
Mac Pro 2013 or newer
Mac Mini 2014 or newer
Update your Mac to macOS 11 Big Sur
For updating to current Mac operating system to macOS 11 Big Sur Beta version. You need to download the macOS 11 Big Sur file. For the downloading process, we have two individual methods, one is downloading macOS Big Sur with Developer account, and the second one is downloading macOS Big Sur without Developer account.
You might have information about the Apple Developer program account, to be enrolled with the Developer program it cost charges of $100. But there are no worries we covered each and everything now you can download macOS Big Sur without Developer account also. If you want to know that then check out the below link.
– Enroll With Apple Developer Program Account
Open your Mac, then over ahead to Apple Developer Program website.
Sign in by clicking on the account option on the top right corner.
Click on Downloads from left-handed sidebar
macOS Big Sur will be on the top, click on Install option.
Click Allow to download
Navigate to Download folder
Find macOS Developer Beta Access Utility, then double-click on "macOSDeveloperBetaAccessUtility.Pkg"
The installation of the package is easy just in a few clicks you will install it.
Update your Mac to macOS 11 Big Sur
When the macOS Beta Access Utility successfully installed on your then it will automatically start searching for the latest version of the macOS operating system. Also, currently, if you are running macOS Sierra, macOS High Sierra, macOS Mojave 10.14, or macOS Catalina 10.15 on your Mac, then directly you can upgrade to macOS Big Sur.
Attention! Before going to update your Mac to macOS 11 Big Sur beta version. We recommend you to take full back up of your important documents. Because at the first line I noticed for you that the beta version may contain bugs or security performance issues. While upgrading if you faced any issue quickly you can turn your Mac to the older operating system.
Once the Utility searched for the macOS Beta version the "Upgrade Now" option will pop up there, click on that, over ahead to downloading process.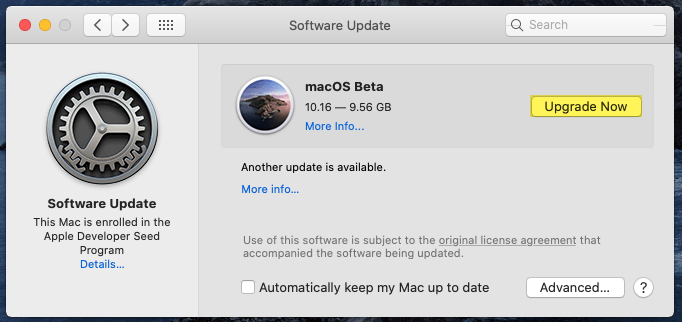 For downloading the macOS Beta you need a nice internet connection because the size is 9.56GB and it needs more time to download and better internet connection.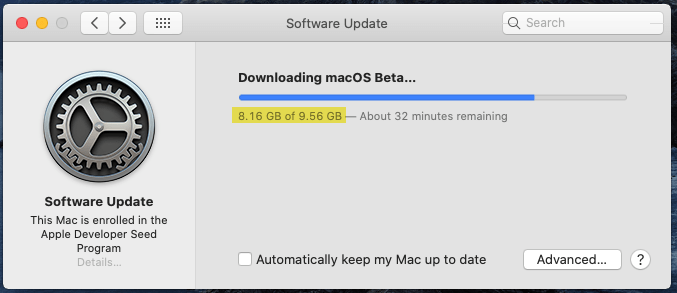 When the macOS file downloaded automatically the screen will come, to set up the installation of macOS Beta press the continue option.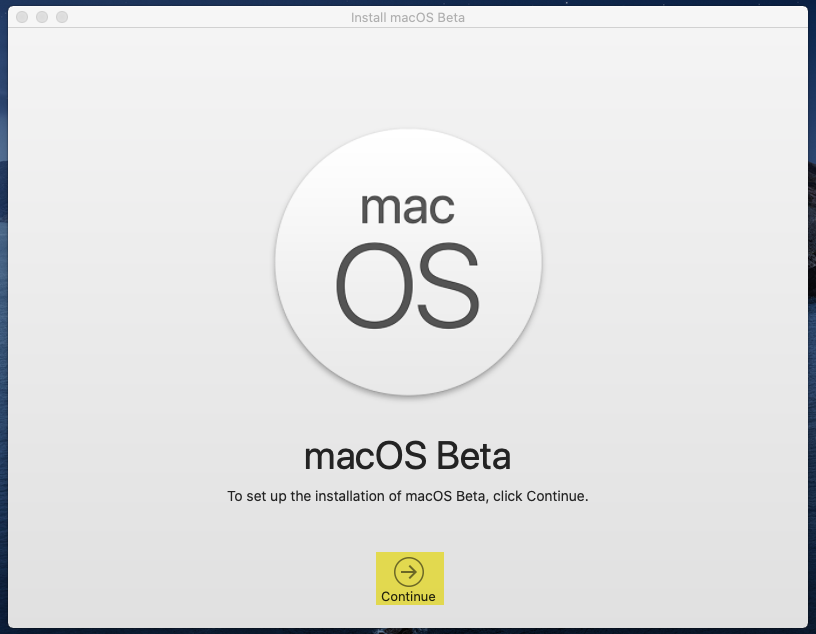 To continue installing the software, you must agree with the terms and conditions of the software license agreement. So, click "Agree" again click "Agree" to go ahead.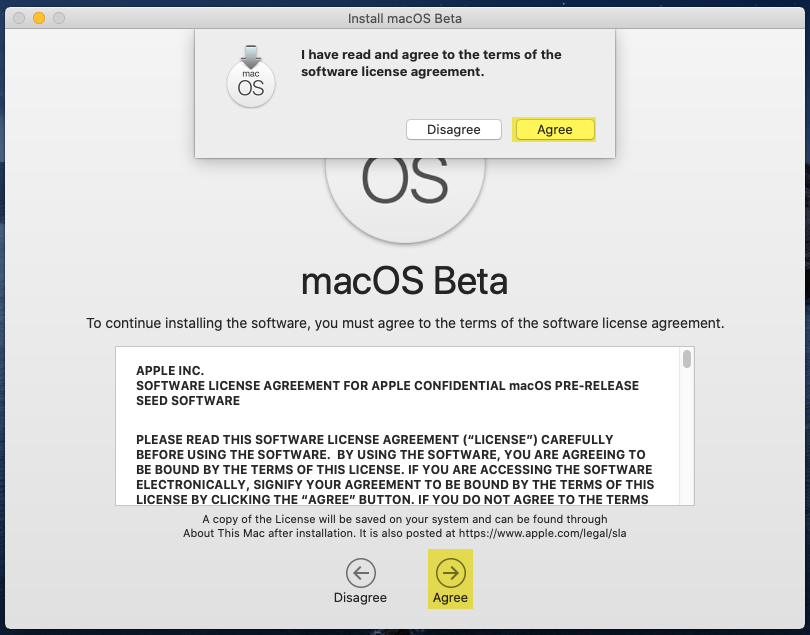 In this screen select the drive where you want to install macOS Big Sur and click Install.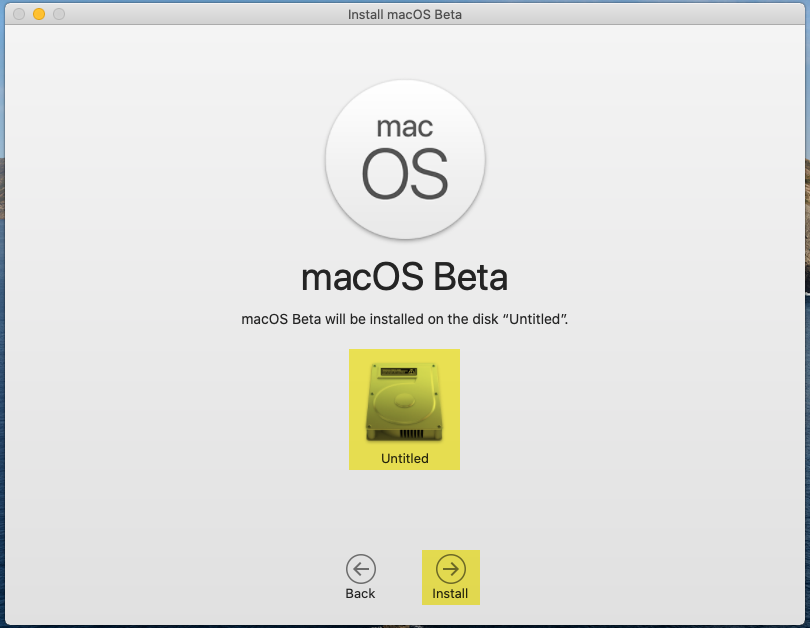 Wait until this step of installation should be completed.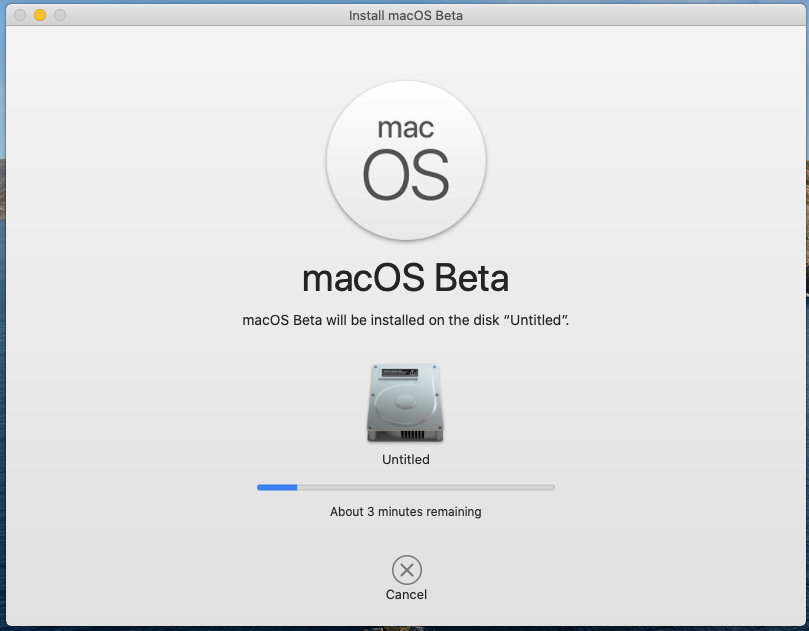 While the installation completed you will be required to restart your Mac, or automatically it will restart.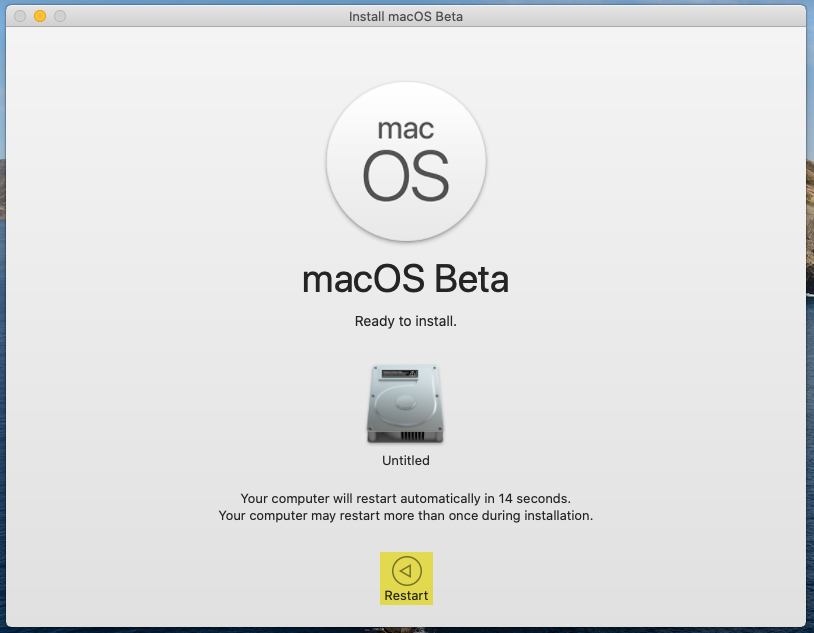 When your Mac restarted here you also need to wait for some minutes. This process of installation cover sometimes, be patient until the completion.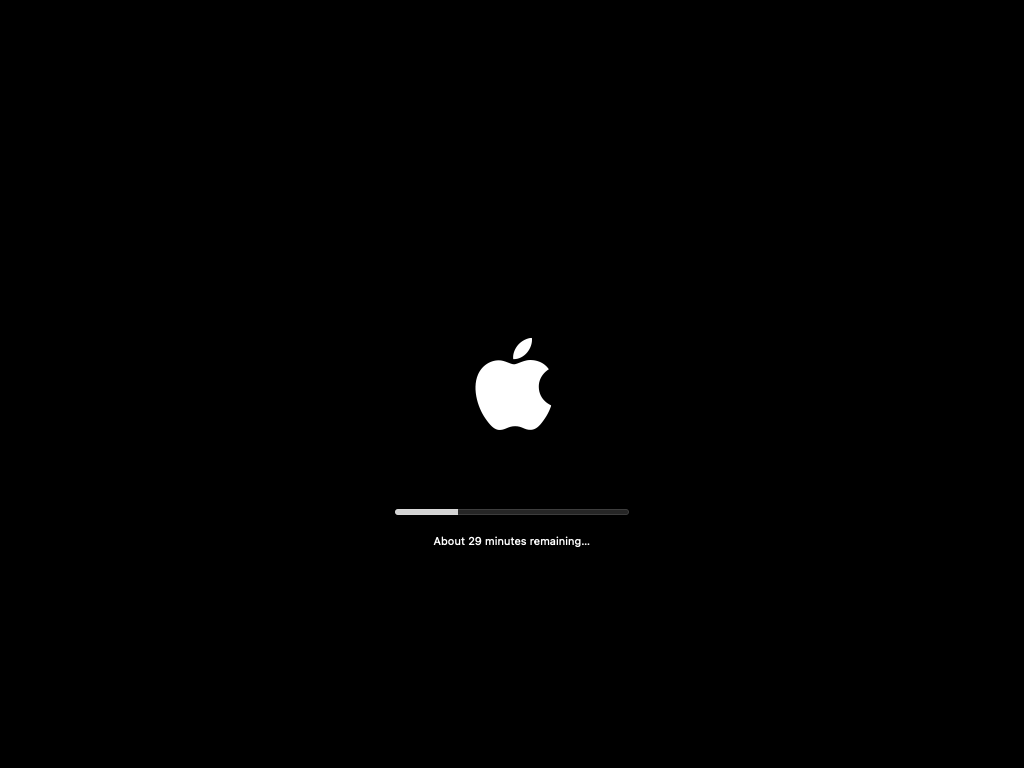 When the installation completed, the login screen will appear, enter your password and press enter.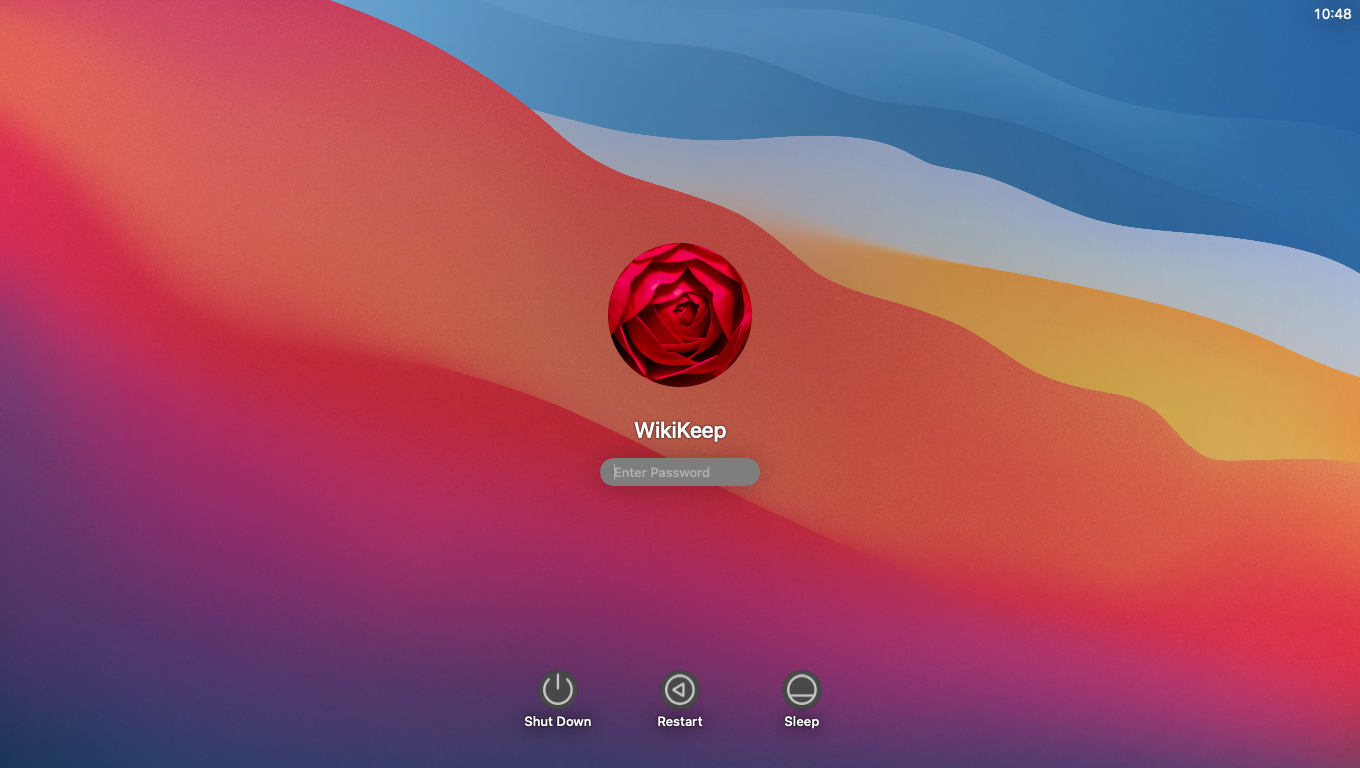 The Siri is redesigned in macOS 11 Big Sur, in the Siri window you can customize into different options. Simply "Enable Siri" and click continue.
Wait until your Mac should get ready for the first time.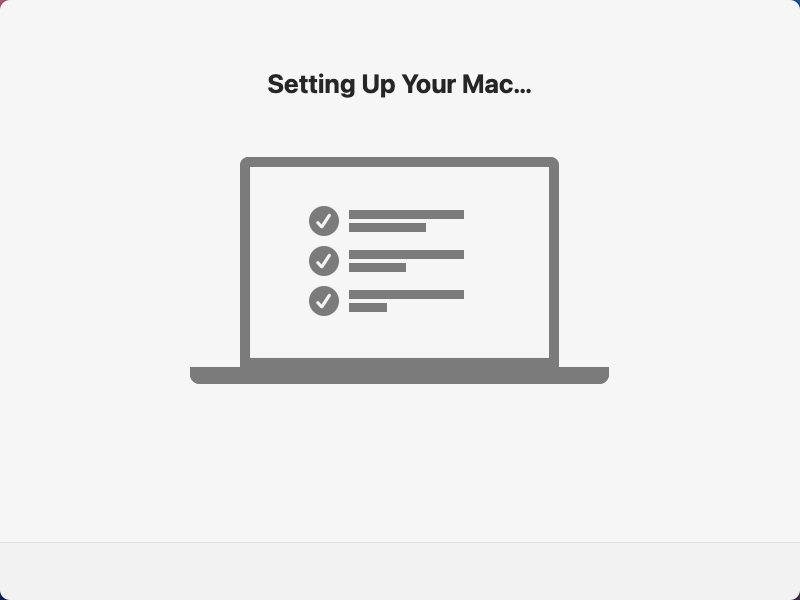 After your Mac got ready for macOS 11 Big Sur, the full macOS Big Sur will appear. To check macOS Big Sur specifications over ahead to top left-haded corner of the window, then click on "Apple Logo" and click "About this Mac" option.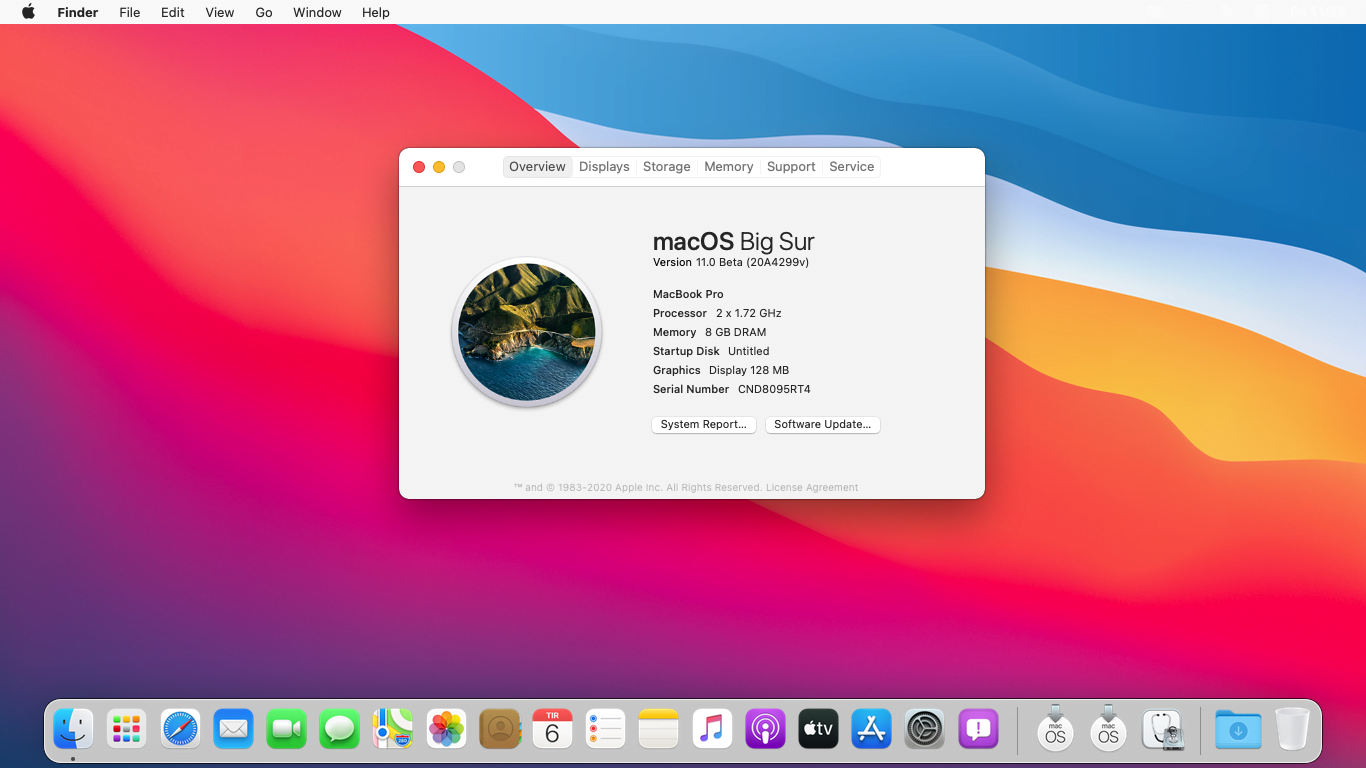 Install macOS 11 Big Sur on VMware & VirtualBox
If you don't have any Mac or MacBook computer, then the virtualization platforms will allow you test macOS on Windows PC. Thanks to the world of VirtualBox and VMware Workstation that every time makes our experience complete with its platform. Because I am much interested in using the macOS operating system separately alongside my Windows 10 PC.
VirtualBox and VMware Workstation allows the users to test macOS, Linux, Android OS, or even Windows OS on the same actual machine at the same time. The installing process is pretty much easy just download any of the virtual machine software then install it on your Windows PC, after that, create a virtual machine and run the installation. The same job here we performed for macOS 11 Big Sur on VMware & VirtualBox, to know how we did that check the below links.
For further inquires please contact us using the below down comment sections.