During WWDC "Worldwide Developer Conference" Apple released one of the biggest iOS operating system for iPhone. After iOS 13 Apple released the iOS 14 version at the event of 22 June 2020. At this event Apple introduced for the user's iOS 14, Watch OS 14. tvOS 14, macOS Big Sur 11.0. This major update of iOS has the ability to run over all the iPhones devices. Still, iOS 14 is in Beta mode most of the users got bugs issues, with its new features.
Officially the final version of all Apple products will be released later this year in September or October. People are expecting Apple to release the iOS 14 till the end of the year. With those issues which is reporting by users.
According to rumors they are saying that Apple will kick out the new iPhone operating system until the release date of the iPhone 12. Unfortunately, Apple delayed the release date of the iPhone 12 till the end of October. Those who are unwanted of iOS 14 they have to wait for it till the end of October.
As you have the information about Apple, that every year they are releasing new things in June months. And there is the list of the five past iOS operating system.
iOS 9 Wednesday 16 September 2015
iOS 10 Tuesday 13 September 2016
iOS 11 Wednesday 20 September 2017
iOS 12 Monday 17 September 2018
iOS 13 Thursday 19 September 2019
Those five above iOS operating system is the final releases.
The first iOS 14 Beta version kicked out by Apple the WWDC event. If you are a part of Apple developer then easily you can get the Beta version from there. The Beta version will help the users to sort out the error bugs and report to Apple. Officially the Beta version of iOS 14 kick out after a week and after the release date of Developer mode. This is the best support for the Developer insider to report and fix the bugs issues. Also, iOS 14 Public Beta version will release in July 2020.
Download and Install iOS 14 on your iPhone
Before installing iOS 14 on your devices, be sure that it can supported by your phone or not?. Some of the users installed it on iPhone 6s or later than that. But again below down there are some list of iPhone which can easily support iOS 14.
iPhone 6s & 6s Plus
iPhone SE (2016)
iPhone 7 & 7 Plus
iPhone 8 & 8 Plus
iPhone X
iPhone XR
iPhone XS & XS Max
iPhone 11
iPhone 11 Pro & 11 Pro Max
iPhone SE (2020)
…plus obviously the iPhone 12, 12 Max, 12 Pro and 12 Pro Max will all come with iOS 14 preinstalled.
iOS 14 New Features
We appreciate Apple Inc and there Developers for such great changes in all operating systems that they released this year. In fact, iOS 14 is one of them which includes a bunch of new significant features. That you won't expect this from Apple.
iOS 14 Home Screen: The iOS 14 home screen is pretty beautiful with a different look. It allows you to have more customization than previous iOS.
App Library: The app library is one of the biggest features in iOS 14 that have the benefits of organizing your Apps in a better way. Now instead of scrolling down all those pages, you can make a separate category for your Apps in one folder.
Widgets: As long we have the widgets from iOS 9 till iOS 13. But there is one more thing added in iOS 14 is Notification Center. Now the widgets are available in the iOS 14 home screen. It's now easy to drag and drop the widgets in iOS 14. Also, you can customize the widgets into different shapes and sizes.
Siri: Siri is redesigned with a new interface in iOS 14, also added some other functionality and abilities more. Now you can tell to Siri to send a message to one of your phone contact. Siri can translate more than 11 languages offline.
The other features of iOS 14 is Messages, new Maps, CarPlay, App Store, and one of the beloved feature in iOS 14, and macOS Big Sur that we have experienced is round curved edges. That gives a more attractive look to the operating system home screen.
Install iOS 14 Beta on Your Phone
For installing iOS 14 Beta on your phone, firstly you need to download the Beta Developer Access Ability Install Profile of iOS 14. The very first open your iPhone device, and click on the link below down to download the Profile.
Download iOS 14 Install Profile
Step #1. Install iOS Profile
Once you clicked on the link, a notification will pop-up on the screen. The website is trying to download a configuration profile. Do you want to allow this? so click allow to download. When the profile has been download on your iPhone device you will get notification.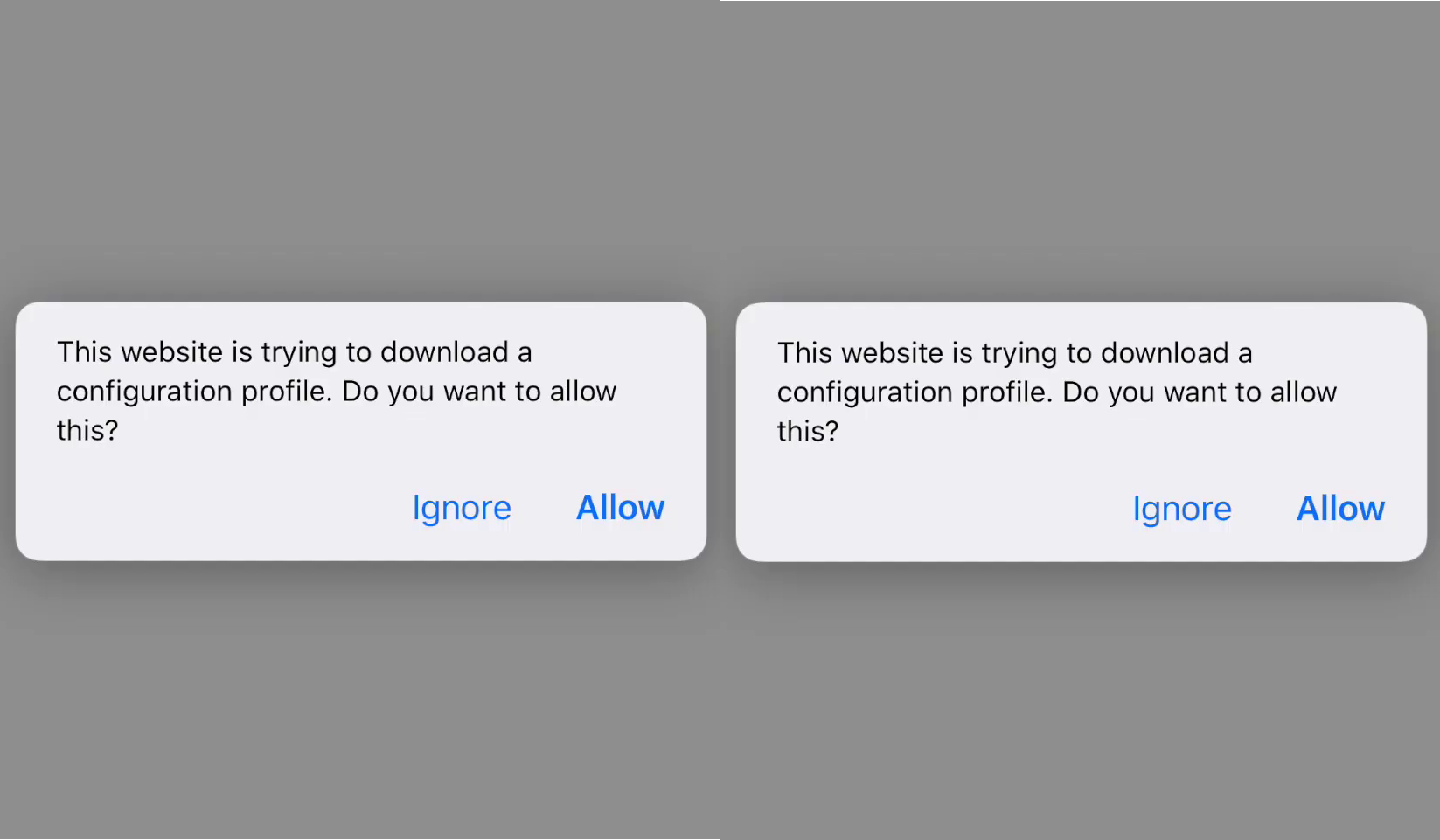 When the first completed, the over ahead to the second step, but this step is a bit complicated. Open your phone settings app, then scroll down and click on the "General" tab.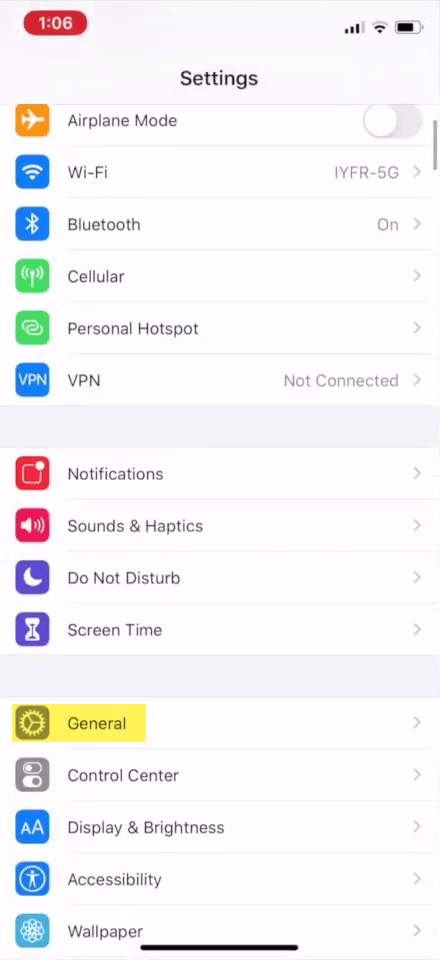 Once the general tab window opened scroll down and click on "Profile".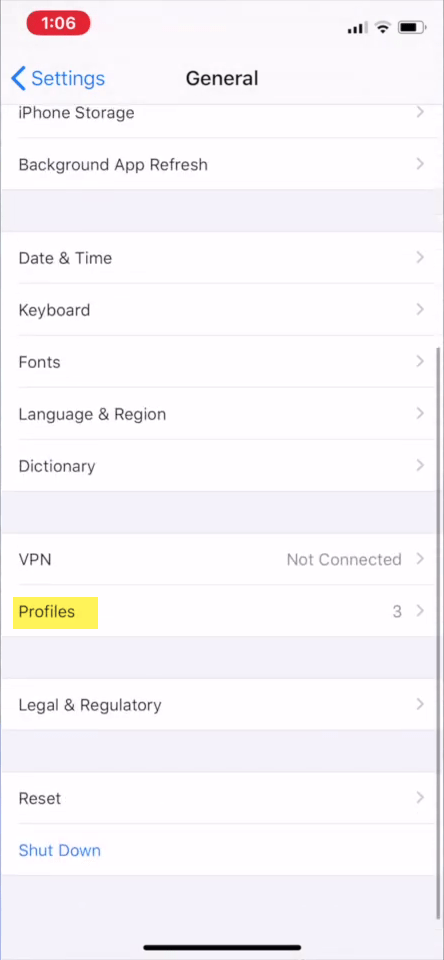 On the profile window, click on "iOS 14 & iPadOS 14 Beta Software Profile" to open the installation destination. Click on the top right-handed on the "Install" option.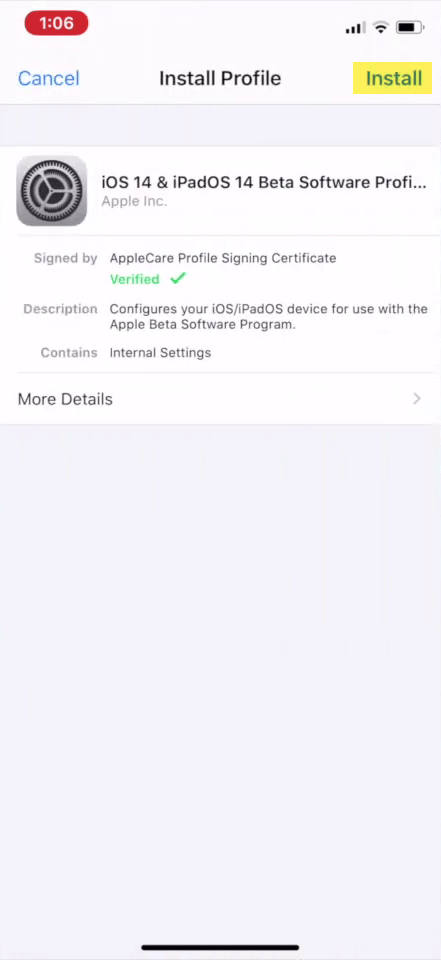 When you clicked the install option, for its confirmation you will be required to enter your passcode.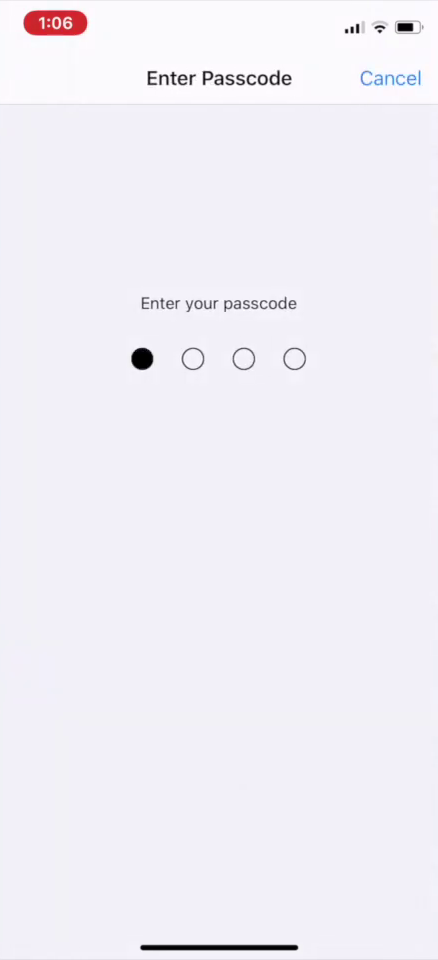 Now the installation window will appear click on install option from the top right-handed, and again click the install button.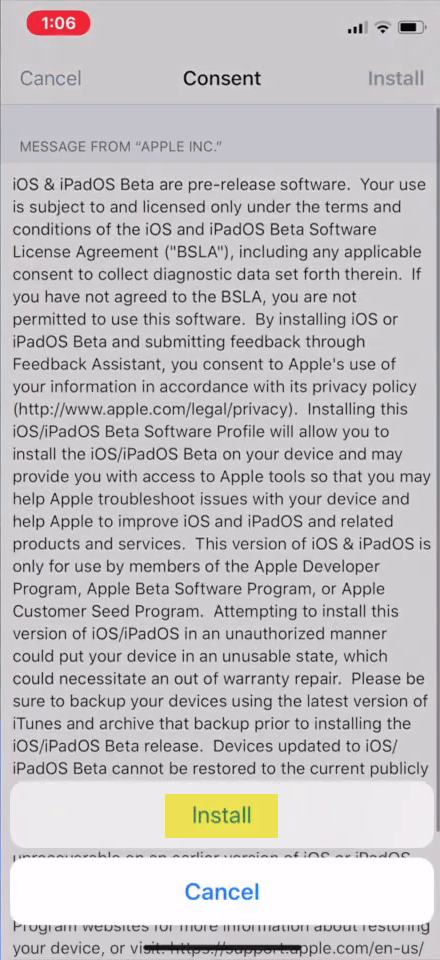 For the installation, you need to restart your device.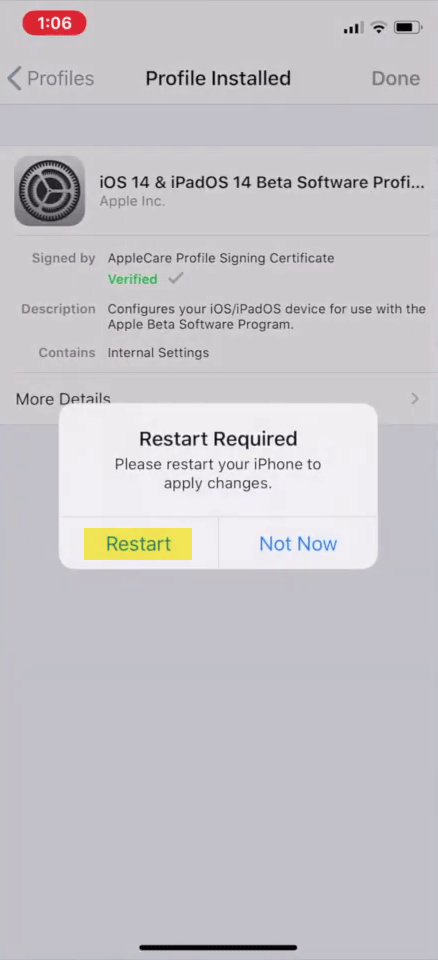 Note: Before updating your iOS to iOS 14 be sure to take a backup of your important documents. Because its the Beta version might be during the installation you should face any problem.
Step #2. Download iOS 14 Update
Once you restarted your device, the profile is installed on your phone. So let's get started updating the device to iOS 14. To do that over ahead to Settings app, from settings window click on "Software Update".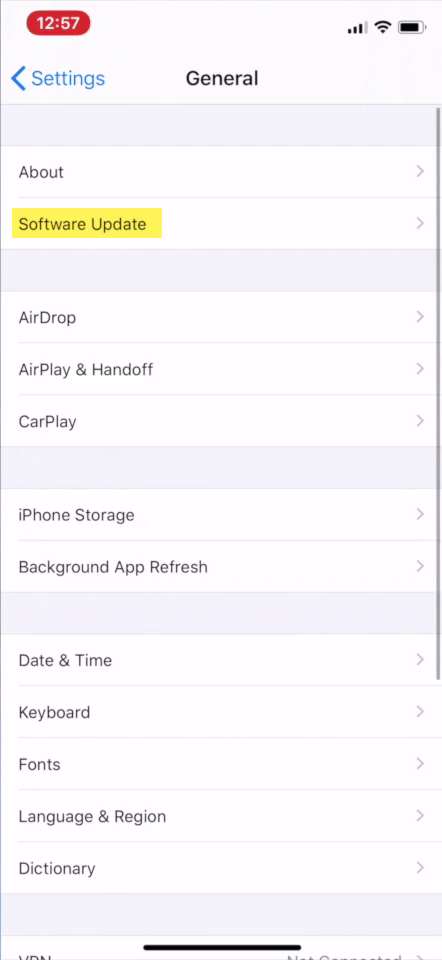 Wait a couple of seconds that software update should search for iOS 14.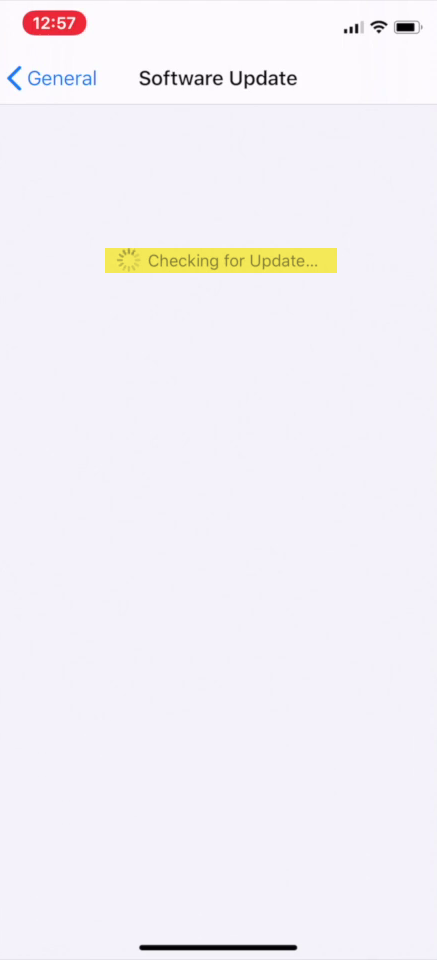 And here it is the iOS 14 Beta version is available for your device. To update to iOS 14, click on "Download and install" button.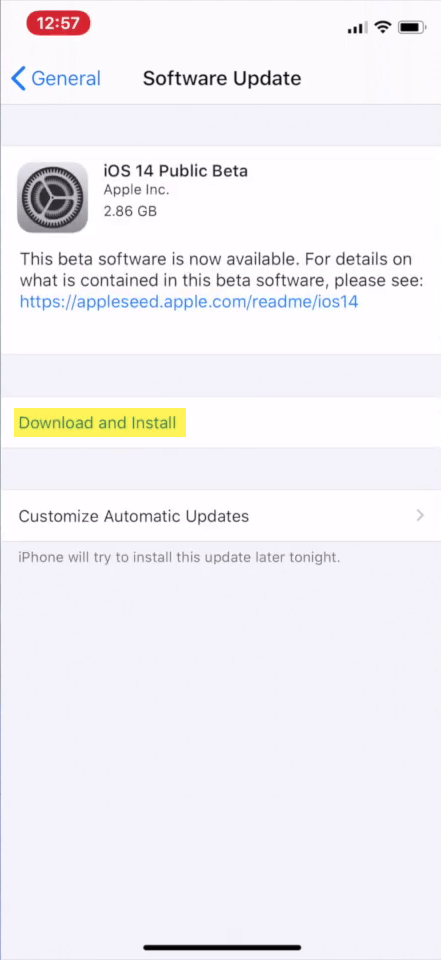 Now wait for download iOS 14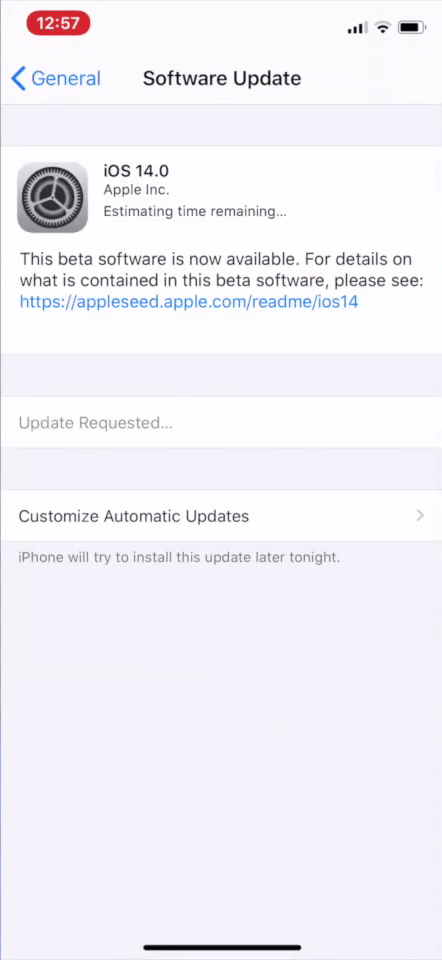 Once the iOS 14 downloaded on your phone, it will automatically start installing. So, the installation process will cover up to 20 minutes. During the installation don't take any action on your phone, otherwise your phone will be damaged.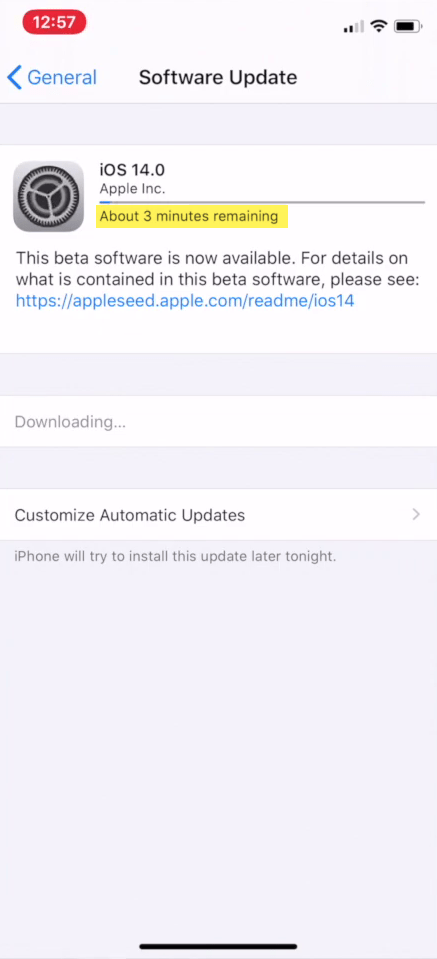 Now click on the "Install now" button, and your phone starts restarting. Once the installation completed again restart your phone for better safety and clean installation plus performance.