Many business owners and small and emerging companies need to create professional logos to express their vision and identity. The logo is considered the cornerstone of any brand with regard to media and visual appearance, and it is also the first step to establish a brand and introduce the company culture. However, many business owners face some complications when they want to create the logo, whether relying on independent designers or relying on specialized programs or tools available online.
Hence the DesignEvo platform gives you the ability to design the logo simply and easily without the need to pay financial costs.
What is DesignEvo?

DesignEvo is an online tool to create professional-looking logos in simple steps, without the need for design experience. It does not need to download programs to your computer
How to make your logo with DesignEvo?
The operation is very intuitive, so anyone who is used to operating a computer can easily create a logo with this tool.
Below are detailed instructions for 3 steps.
Step 1: Select your favorite logo from the template stock
After you have accessed its homepage, and then you go straight to your logo design without any registration. To note that you can design first with no account, but it will require to sign up when you want to save your logo files. Still, this function would better than no.
Well, as you have land its template choosing page. Then, you will find the categories are finely divided, as shown below, so it is easy to find a logo that matches the classification of your business.
For example, when creating the technology website, you can select the following template in the "Technology" category because there is also a lot of technical information.
Step 2: Follow the steps below to change the design based on this template.

After you have selected a template, the Company Name and Slogan input window are displayed. You sure can skip this step, it is optional.
All you have to do is edit icons, characters, shapes, backgrounds, etc., drag and resize them, all these changes are edited at your will.
You can edit your logo with the design resource at the left bar as below:
ICON: Search and search from among the millions of icons.
Text: Select your favorite font from Classic or Art.
Shape: Select when you want to use "shapes" such as badges, decorations, lines, etc.
Background: You can reset the background color of your logo.
One of its good points is that you can use hotkey to do your operation like undo and redo. But you should make sure to select the item; otherwise, the result could be not meet your need.
Also, if you want to go back to the previous steps, you can go back by pressing the "Undo" button in the upper left. Or, You can do the same with Ctrl+z on Windows and command+z on Mac. It is convenient to remember because you can use it even if you make a mistake in typing the text. You can also use other shortcut keys such as copy and paste.
Step 3. Preview and download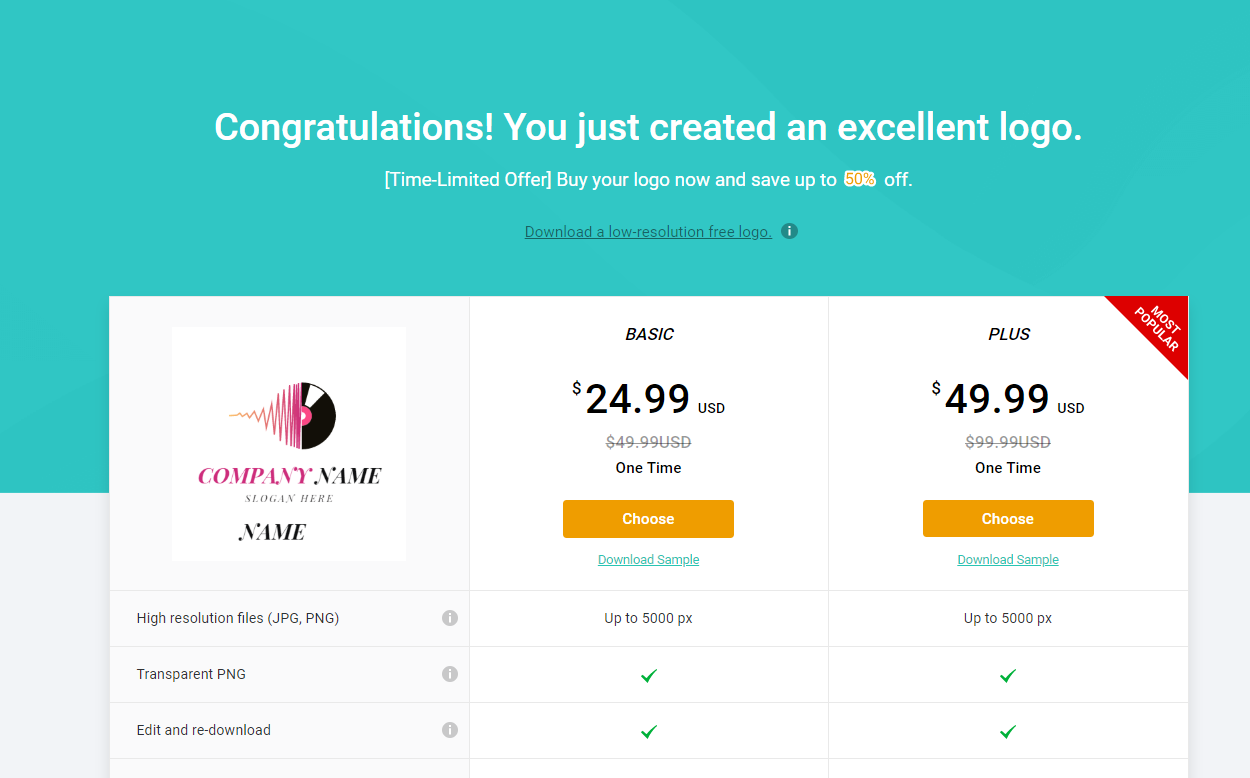 Next is the preview of your logo on the real application. If you think your created logo is good, then you can click Download in the header menu.
Also, if you want to quit editing on the way, click Save on the left.
After that you have clicked the Download button, you would move to the following page.
To use the free version, click Download a low-resolution free logo. Then a popup will appear, so after sharing on SNS, select Agree and download.  Also, if you want to higher resolution, then you would need to pay a fee for it.
To conclude
This kind of tool would not like Adobe program that you can do a very detailed operation. However, you can quickly complete your design task without occupying massive storage. With DesignEvo, you can use a huge stock of resources to customize. If you happen to need a logo, then you can try this tool.