We are much far away from releasing the date of iPhone 12 2020, that Apple Inc wants to release its iPhone 12 in September. But Apple always release their products late then other companies, and they release with the best quality and something different. And we have heard enough rumors about the upcoming device of Apple. As we are expecting from Apple that they will name there upcoming iPhone 2020 iPhone 12 and iPhone 12 Pro. As we follow the following iPhone 2019 with the same name.
As one of the YouTube channels revealed more about Apple iPhone 12 product features, that below down I will introduce some of them. The iPhone 12 will be very unique, which includes lots of changes on the design and shape than the iPhone X which was released in 2017. And most iPhone users expecting some changes in the display size also. But we don't have much information about its sizes. But the rumors recommended 6.7-inch iPhone from Apple, with three OLED devices, and triple-lense cameras. Also, people are telling that 2-lense cameras will cost a low price. All iPhone 12 2020 are expected OLED display and with low price, and 120Hz.
People expected one of the best designs iPhone will feature with an incredible redesign and metal frame, as similar to iPhone 4. iPhone 4 was one of the best iPhones among the iPhones with stainless steel frame.
This iPhone will have a new TrueDepth camera system, according to rumors there will be 3D triple-lense rear camera system. That the 3D triple-lense camera will calculate depth information for the objects of the area. The iPhone 12 camera will be similar to the LiDAR Scanner in 2020 iPad Pro.
As the Samsung company released there 5G device called Samsung Galaxy S20. And the same Apple will roll out its first device with 5G support in the iPhone 12. This device is ever the first device to connect to 5G networks with much faster than 4G LTE networks. Still, most of the countries doesn't have 5G networks with they can replace it with there 4G LTE networks after buying the 5G networks.
iPhone 12 Name
Apple always getting confused with nominating there iPhone products since iPhone 8. On other side iPhone X in 2017, Apple continued releasing there iPhone devices in 2018 with the name iPhone XS, XS Max, and XR. But they rolled out there device in 2019 with names of iPhone 11, iPhone 11 Pro, and iPhone 11 Pro Max. I think the iPhone 11 name is unique to its previous devices.
Apple again wanted to continue its product iPhone with the following name like iPhone 11S. But rumors say that expected demands of users 2020 is something else, they will release there iPhone with iPhone 12 name. I think this will much interested after iPhone 11 they named iPhone 12. But we expect something cool from Apple till the end of 2020.
iPhone 12 Size
iPhone 11, iPhone 11 Pro, and iPhone 11 Pro Max is having a bigger display size than the previous iPhones. But rumors suggest Apple Inc four kinds of iPhone 12 with three different sizes. People indicate the size of the iPhone 12 5.4-inch, 6.7-inch, and two 6.1-inch iPhones. And 5.4-inch iPhone will be smaller then iPhone Pro 2019. But the iPhone 6.7-inch is bigger than iPhone 11 Pro Max. But rumors suggest 5.5-inch iPhone to Apple that should bring in iPhone 12.
iPhone 12 Design
iPhone 12 2020 will have an unbelievable design with stainless steel metal frame that similar to the iPhone 4. Apple Inc specialist Ming-Chi Kuo says that iPhone 12 2020 is more comprehensive then iPhone 11 2019 and will be more different than the previous product of Apple.
iPhone 12 2020 with 120Hz display will be similar to iPhone 4 and iPad Pro with a squared-edged stainless steel frame. The iPhone 12 will have an edged rounded shape as Samsung edge devices. Ming-Chi Kuo believes that Apple will use sapphire tempered glass to protect the overall iPhone frame.
As Bloomberg says at least two iPhones Apple plans in 2020 will have a new unique design. According to Mac Otarkara the 6.7-inch iPhone 12 will be thick of 7.4mm. And it would be thinner than the iPhone 11 Pro Max 2019. And it would be taller than 11 Pro Max, between the height of the iPhone 12 and iPhone 11 Pro Max. I think iPhone 12 will be thinner and taller. So, iPhone 5.4-inch expected as the height of iPhone SE and iPhone 8. Overall let's see and we will have waited for the upcoming Apple product till the end of 2020.
iPhone 12 Colors
You might think Apple will bring changes to its iPhone 12 colors. But no they will continue to release iPhones like the previous iPhone, with Black, Dark Gray, White, Red. But rumors suggest Apple to release iPhone 12 device with a new blue finish colors. But Apple introduces a midnight green color. But it's not reasonable to think about iPhone 12 with a new color.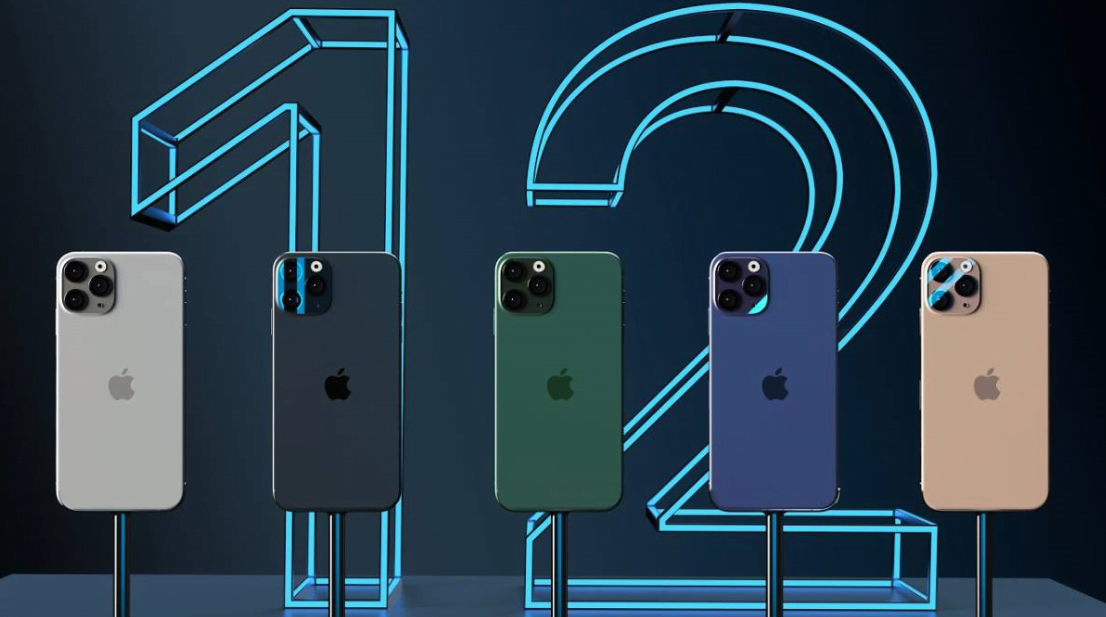 iPhone 12 Display
Apple products currently having its more value in the market with the highest prices, like iPhone, iPads, even Airpods. Apple offering to continue its products more expensive than its previous iPhone products in 2020. And all the Apple devices might come with OLES displays this year. Apple tested the OLED from achiness company and that is BOE display, which makes iPhones pretty interesting for use. The BOE Display company previously produces the LCDs for Apple iPads and MacBooks. But now we can say it as a copy product of Samsung company, that Apple is now using Samsung OLED displays in the upcoming iPhones 2020.
The new Apple iPhones 12 2020 will expect to adopt or take down the Samsung devices that called Y-OCTA. It allows the touchscreen to directly pattern on the OLED screen of the iPhone with any separate layer. This result calls that iPhone 12 is having the thinnest display. Some of the iPhones upcoming 2020 includes touch-integrated-display supplied by LG Company. LG company also has its participation in the upcoming 2020 iPhone 12.
Apple is not promoting its product like iPhone 12 which includes 120Hz display, this Apple promotion will be on their tablets also. This 120Hz has lots of positive effects on the iPhone and iPad Pro, like it brings lots of changes for fluid scrolling, greater responsiveness, and smoother motion. For example, if you are watching a movie on iPad Pro, or iPhone 12 2020 the refresh rate may be at 120Hz. Or reading something on the web or looking at a photo then it doesn't need a 120Hz refresh rate. Let's see this changes may come in the upcoming technology or no, because it has too much impact on the battery life a device. Rumors says the low-power LTPO technology in the iPhones till 2021.
Battery
You have better information about the battery capacity of iPhone smartphones. But Apple gains to bring some changes in the upcoming 2020 iPhone 12, as the Apple engineers are working on the capacity of the iPhone 12 battery.
Storage
A famous YouTubers Jon Prosser has rumored that iPhone 12 2020 storage space starts from 128GB models, it means that iPhone 12 storage will start from 128GB space. And another rumor says that two iPhone 12 models start from 64GB storage space.
5G Connectivity
Apple's first smartphone device includes 5G connectivity, they decided to use Qualcomm modem instead of Intel Chips, currently Apple working on Qualcomm's 5G technology to bring in its iPhone 12. According to Ming-Chi Kuo all the iPhone 12 will use 5G technology in 2020.
Apple designers are working to bring lots of changes in the iPhone 12 or later. They are working to remove external ports buttons in the iPhones, or they even thought to bring wireless charging technology to iPhone 12, Apple will bring these changes very soon. All the rumors say that Apple will release an iPhone in 2021 without any charging port. According to Ming-Chi Kuo Apple will bring changes to the technology era, and the users soon will have the wireless experience. Also Apple will release the iPhone SE Plus without any Face ID, and touch ID fingerprint sensor in 2021.