After WhatsApp updated its privacy policy, the privacy and security of WhatsApp is now changed and we can't use WhatsApp like its previous version. Because the users complained that we do not agree with the updated security and privacy of WhatsApp with its new rule. WhatsApp users data will mandatorily be shared with Facebook. Due to WhatsApp security and privacy update, most of the users are migrating from it to Signal App. Signal App is the replacement of WhatsApp with the highest security and privacy level. Now Signal app currently having over 40 million users worldwide.
Migrating to Signal App from WhatsApp is a big change for keeping safe your data on Signal App. Thanks to Signal, currently its now one of the most secure App for Messaging, Calling, and for all our data. On the other hand, most of the people are complaining that Telegram is more secure than Signal App. Indeed the Signal App is more secure, and it's being confirmed worldwide.
Based on the security and privacy label of Signal App which is mentioned on App Store. The signal App only requests the user's phone number and makes no attempt to track users.
Use Signal App Without Sharing your Contacts
Usually, you can use this option of Signal while signing up with the Application on your iOS, or Android devices. Like the other apps, after the installation, the Signal App will ask you to access your existing contacts that available on your phone. So, for keeping its security more safe simply decline the option.
Step 1. After signing up to the Signal app on the screen a notification will pop-up that asks you to access which of those contacts are using the Signal app. Click on the Not Now option to cancel that.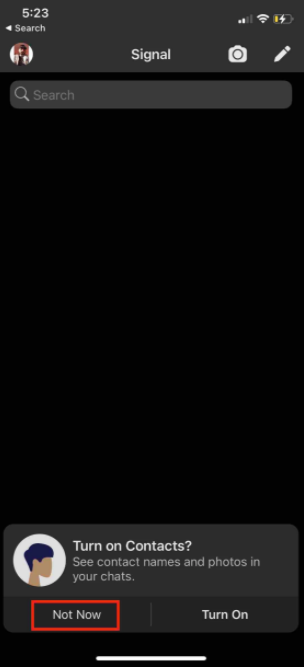 Step 2. After that, in the next window you will be required to Sync all the contacts, simply click Deny.
However, according to the users they are saying about Signal App, because its a new App which is new in the market still the users they don't have enough trust in it. Therefore, there are some downsides to not share your contacts with Signal. Such as won't know which of your friends are using the Signal app.
You can use the Signal app alternatively after typing the name of the person which you want to chat with that.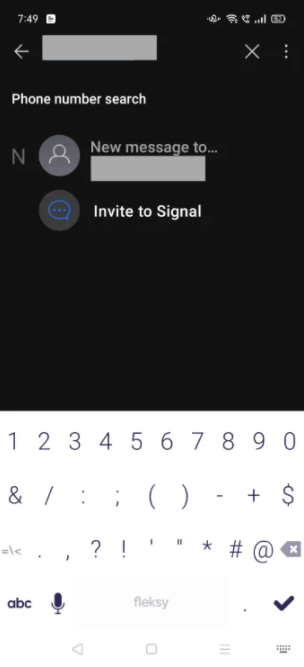 That's, the best choice of using the Signal App without not sharing your contacts, on the other hand, you can use its all features. Another downside, if you are sharing your phone number or adding a number by search. You can not assign to them or edit the phone number name indeed you have access to contacts.
Besides asking to Sync your contacts on the Signal app, it will ask to access Camera, Photo, and Microphone users. These are the basic requirements of the Signal app which you will be asked after the installation.