It's about a few years the application companies Inc are working on their Apps dark mode. As the expectation of users that dark mode has many positive advantages to there eyes vision. In some few month ago WhatsApp, Google Chrome, Microsoft Edge Chromium, they released the dark mode version to there application. One of the most essential and positive effect of dark mode on your phone device that it spend less battery life. It brings a beautiful look environment to your website looks.
The dark mode has become one of the preferred features by people and users in the era of technology. Besides having a positive effect on eyes vision, it has many other advantages to your uses. However, this feature attracted lots of people in a few years. While using dark mode feature on your device, it means that it will not give any negative effect. Indeed it reject the brightness to your eyes that your eyes should not feel any weakness.
Finally, every company is working on its application to bring dark mode feature. Like Facebook it's few months that they are working on there Web, and mobile application to bring dark mode features. I think this feature will keep continue to be the best feature for every application. Because most of the users nowadays expecting to use dark mode features on their devices. As you see Windows 10, macOS, or even Linux operating systems they have there individual dark mode option on the operating system. When macOS Mojave released to market the people shocked that this feature of macOS Mojave is unbelievable.
OK, our main purpose here to activate dark mode on every website in Google Chrome. Google Chrome as an open-source browser, that developed and published by Google. As Google Chrome itself already has it's dark mode. But here we want to talk about activating its dark mode on every website. Because most of the website they are not using dark mode. It means that we make Google Chrome compel to activate its dark mode on every website. Therefore, Google Chrome is a tweak browser that has lots of options to customize for every necessary part. Like if you are using the latest version of Google Chrome you can easily replace your picture as its background.
Activate Dark Mode on Every Website in Google Chrome
Like Google Chrome, Mozilla Firefox, Mircosoft Edge Chromium, Opera browsers they already have its inside built-in dark mode feature. These all browsers are open-source that you can use it anywhere without paying money. When you are using the Google Chrome browser it automatically turns most of the website background color to dark mode. But most of the websites they turned off their dark mode option, or they don't have a dark mode.
Don't waste your time till the time you should wait for those websites to bring dark mode features to there platform. Google Chrome allows you to activate its force dark mode feature that can activate dark mode to every website with less brightness with dark color. However, if you are using Facebook on the web then this force dark mode will offer you to use Facebook dark mode feature too. Now its time to activate all the website dark mode features using force dark mode.
Still, you are thinking about activating the dark mode of Google Chrome. Or you think that it is enough difficult, activating the dark mode is pretty easy. There is no need of installing any kind of Google Chrome Extension, therefore, Google Chrome itself already has its dark mode option. Again if your Google Chrome doesn't have the Google Chrome dark mode update it or download an extension by the name of (Just Black). Just Black will automatically turn the dark mode on your Google Chrome.
Do you want to try it out? the flag option is hidden in Google Chrome, I think this flag is not permanently available to Google Chrome like other flags. Or it can be possible that it should be removed anytime from Google Chrome. To activate dark mode on every website in Google Chrome, open up your Google Chrome browser on the search bar type there "Chrome://flag" then press enter. When the experiment window opened search for "Dark Mode" in the search bar.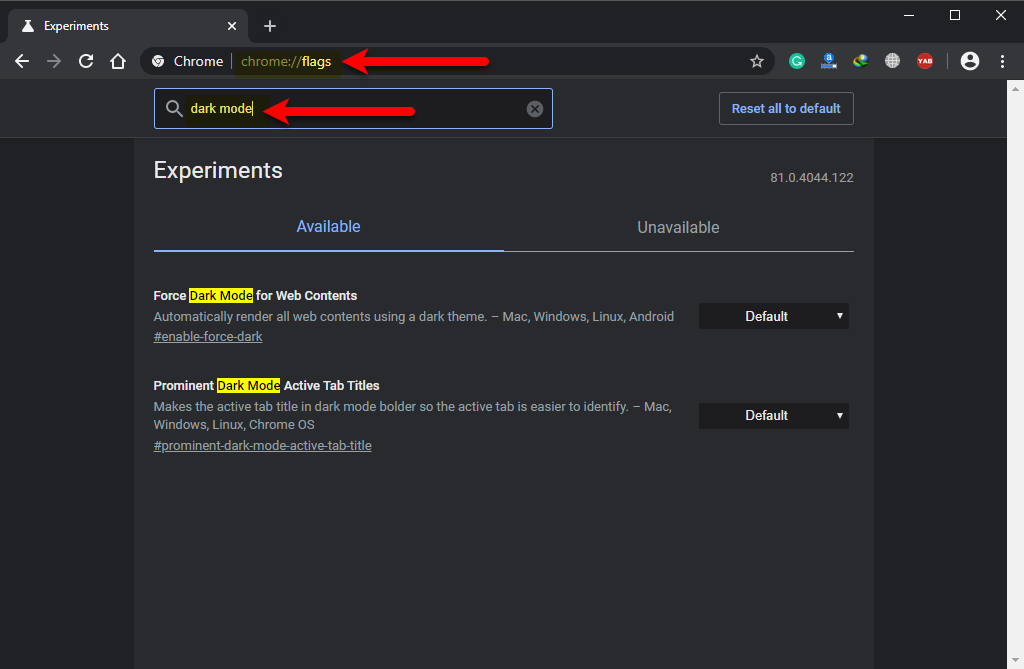 Once the dark mode settings appeared, click on the right-handed of "Force Dark Mode for web contents" option, then select "Enabled" as a default setting of Google Chrome.
When you enabled the Force dark mode option on Google Chrome, then automatically it will ask you to relaunch the Google Chrome. In fact, it may cause that you should lose your search history on Google Chrome, be sure to take all the backup of your files like text etc, after that, press relaunch it close the Chrome and automatically reopen again.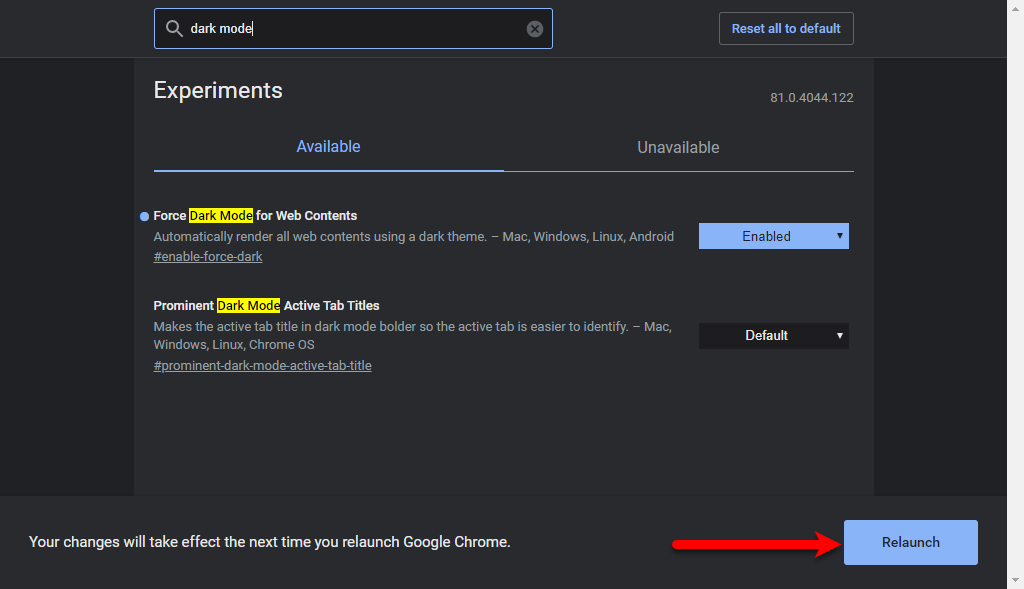 Once Google Chrome reopened check out it, open any website that doesn't have a dark mode. Make your self sure about the activation of Google Chrome Dark Mode.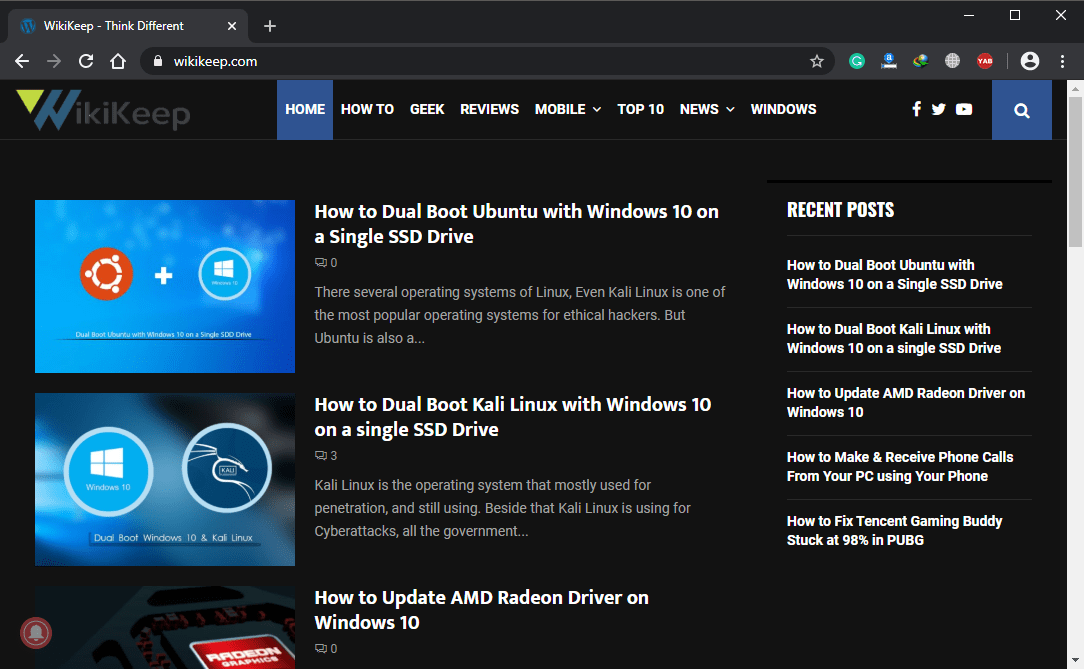 Again if you don't like this force dark mode feature on Google Chrome. And you want to deactivate this, the process is simple the same as activating. Open up the browser on the search bar type "Chrom://flag" and press enter. In the experiment window search bar type "Dark Mode" and press enter. And on make the enabled option as a "Default" and it will ask you again to relaunch the browser.
This force dark mode feature also working on Microsoft Edge Chromium. The activation process is the same as activating it on Google Chrome. But there is a small change that in Google Chrome for the flag you typed "Chrome://flag" but for Microsoft Edge Chromium you have to type "Edge://flag".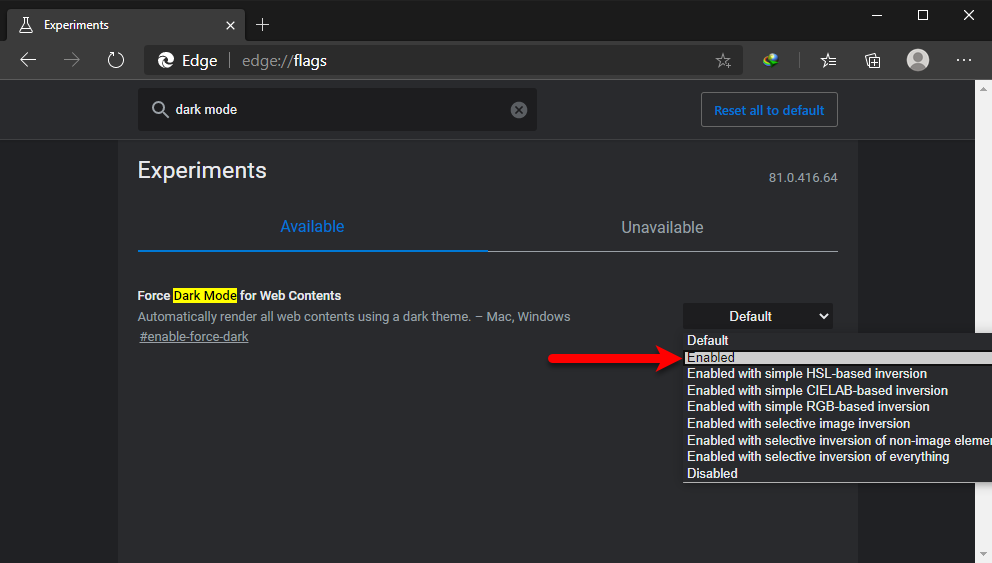 Remember that you can try any of the force dark mode options on your browser. Therefore, each of those options will do their separate works. Again it depends on you, but you are not compelled to use the dark on every website. That's all about how to activate dark mode on every website on Google Chrome. If have any question related to this post, then use the below down comment section.