One of the most waited features of WhatsApp is finally rolled out and now available in your hand. WhatsApp is finally getting its new feature dark mode for Android & iOS. After testing its beta version on Android & iOS both operating system. It is a piece of big news for WhatsApp users that today its Dark Mode is available. However, if you are using its beta version on Android & iOS then update it to its official version. But for Android users, there is big news that firstly the tested out WhatsApp on their phone than iOS users. There are many functionalities that WhatsApp has consisted of that. There isn't any side effect on WhatsApp, alongside, it has better performance and it will not cover your mobile phone battery life. When we tested on our phones there the best thing that it will not affect badly your eye's vision. In case, it has lots of positive effects on your eyes.
However, as you see most of the social Apps are having Dark Mode. According to science experiments, the Dark Mode has many best effects on your eye's visions, Mind, and many other things. Also, Dark Mode is one of the most popular features on Applications, Operating systems, Browsers. Smartphones, Laptops. Usually, the products that we are using nowadays most of them are having a Dark Mode interface. Then WhatsApp is working on WhatsApp web to bring its Dark Mode on the Web in the near future. However, through this guide, I will show you how to activate WhatsApp dark mode on Android, iOS, and Web.
Activate WhatsApp Dark Mode on Android, iOS, & Web
The new topic which users are talking is about smartphones interface Dark Mode, Applications dark mode. On Android, & iOS usually dark mode is an optional option to turn there interface look into the dark. Mostly, dark mode is available on Instagram, Google Chrome, Viber, Android, iOS, and WhatsApp. Also, Facebook is working on the Dark Mode to bring it in the interface look in the near future. It seems that developers are working on Dark Mode of every part of smartphones & computer applications.
Activate WhatsApp Dark Mode on Android
Now WhatsApp Dark Mode is available on your Android App Store. Why do not get Dark Mode benefits from WhatsApp also? Learn below how to activate Dark Mode on your Android devices.
Open up your Android Play Store, once it opened type on the search bar "WhatsApp" and press enter.
When you find out the WhatsApp click Download.
While the WhatsApp downloaded on your Android phone open it.
On the WhatsApp, window click on the right-corner on three dotes and click Settings.
Once settings opened click on "Chats", from chats window click on "Theme". Now from there select whether you want to use light mode or dark mode for WhatsApp.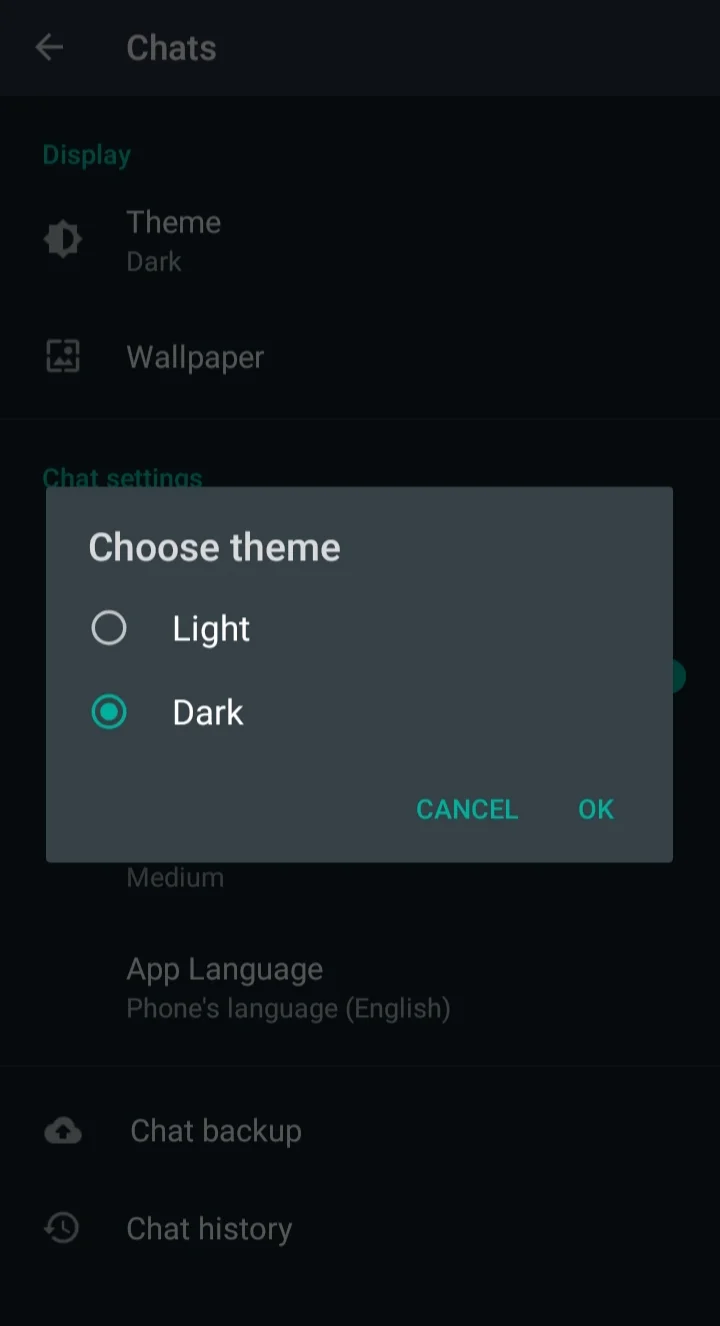 Activate WhatsApp Dark Mode on iOS
WhatsApp dark mode is now available officially on iOS Store which you can download freely. If you are using iOS 13 on your iPhone then iOS 13 is also having a Dark Mode interface. Therefore, you can't bring to changes to WhatsApp mode through the iOS operating system directly. Manually you have to download it from App Store. The procedure of activating the Dark Mode on iOS and Android is the same.
Navigate to App Store and download the WhatsApp.
Once downloaded simply open the WhatsApp. After that, click on the right-corner on three dotes, and click on settings.
When the settings window opened click on "Chats", and select the Dark Mode from the "Theme" option.
Activate WhatsApp Dark Mode on Web
According to WhatsApp news, they experimenting to bring WhatsApp Dark Mode on Web also. You can use the WhatsApp web on your computer. The procedure of connecting your phone WhatsApp to computer WhatsApp is easy. Open up your phone then open WhatsApp once opened click on right-corner on three dotes. After that, select WhatsApp Web then scans the "QR" code of WhatsApp. When you scanned that automatically it will activate the WhatsApp on your computer.
Finally, WhatsApp dark them has successfully launched for the desktop. I have not installed the WhatsApp on your desktop or laptop, so now hurry up install it and enable the dark theme mode.
However, once you successfully installed the WhatsApp on your desktop, activate it with your phone WhatsApp. Then click on the top three (…) to appear the setting option. From the below down list click on the setting option.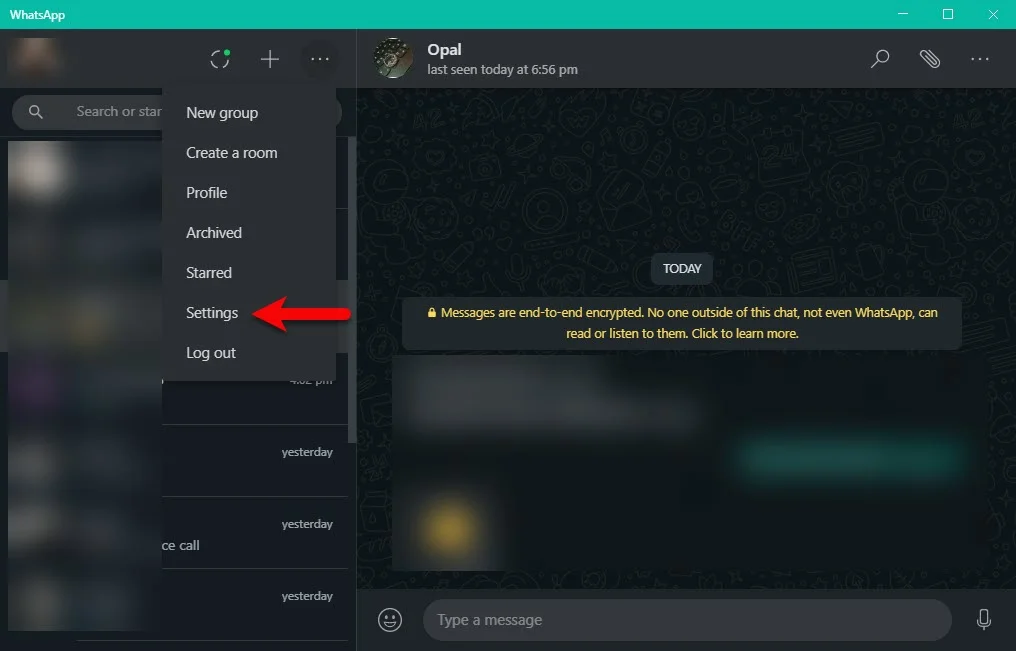 Once the setting window opened, click on the "Theme" option, then from the theme list you can select the light mode, dark mode, or system default mode.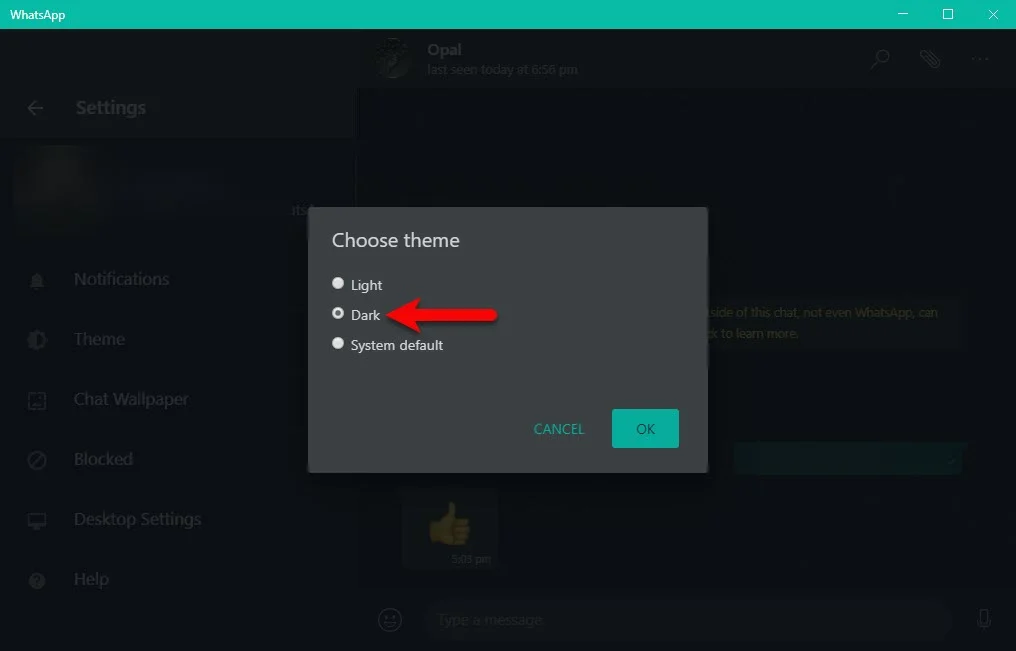 That's it hope you enjoyed reading this article, additionally, if you faced any kind of problem then feel free to share with me.